Need a chocolate fix? Skip the chocolate bunnies that multiply at this time of year and go for this pudding instead. It may not look as cute but it is so good you will not mind.
You start with a list of simple ingredients that come together to form a perfect custard which is good on its own. But it's made better by drizzling a bit of your best extra virgin olive oil and sprinkle of flaky sea salt on top. Trust me – olive oil and chocolate work well (we already know that chocolate and sea salt are very good partners).
Fair warning that you are going to have to clean a pot, a baking dish and at least three bowls, but you will not mind when you taste the finished product. Not quite convinced? I caught Ed licking the bowl…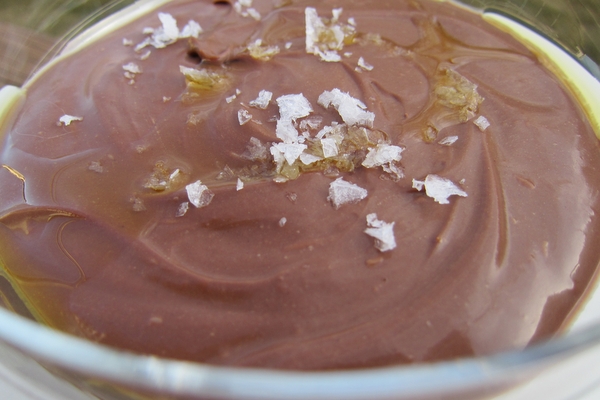 | | | |
| --- | --- | --- |
| Cocoa Custard with Sea Salt | | Print |
Ingredients
6 tablespoons unsalted butter
½ cup granulated sugar
2 tablespoons light brown sugar
½ cup Scharffen Berger natural unsweetened cocoa powder (or other high-quality cocoa powder)
2 cups heavy cream
2 large eggs
Extra-virgin olive oil, for serving
Flaky sea salt (such as Maldon), for serving
Instructions
Preheat the oven to 250°.
In a medium saucepan, add butter, granulated sugar, brown sugar, cocoa powder and cream. Place the pan over medium heat and whisk constantly until the mixture begins to simmer around the edges, the butter melts and the sugars dissolve. Remove the pan from the heat.
In a medium bowl, add eggs and whisk in ½ cup of the hot cocoa mixture. Whisk until smooth, then return the egg-cocoa mixture to the saucepan, whisking to combine.
Pour the custard into a 8 to 9-inch square baking dish (the custard should come at least ¼ inch up the sides of the pan) and bake for 8 minutes. Rotate the pan and bake until the edges of the custard are just set and the center jiggles slightly, about 10-12 minutes more.
Fill a large bowl with ice and water. Set a fine-mesh sieve over a medium metal bowl and strain the hot custard through the sieve, using a rubber spatula to push the custard through the sieve and into the bowl.
Place the bowl in the prepared ice-water bath and whisk the custard constantly for 30 seconds. Keep the custard over the ice bath and cool, stirring occasionally, until the custard is completely cooled, about 15 minutes.
Wipe the bottom of the custard bowl (so no water drips into the custard). Transfer the custard to an airtight container or individual dishes covered in plastic wrap for serving. Refrigerate for at least 3 hours. (The custard can be refrigerated for up to 4 days.)
For serving: drizzle with high quality olive oil and sprinkle with flaky sea salt.
Source: Variation of Nicole Krasinski's recipe from State Bird Provisions in San Francisco