This little piggy went to market and brought home these wonderful roasted almonds. Perhaps that's the second verse of this nursery rhyme? This is the perfect simple treat to make during the busiest time of the year. All the ingredients come together in 5 to 10 minutes and then into the oven they go. These almonds smell great will roasting and taste even better.
Pairing cardamom with cocoa and coffee (in this case espresso) elevates these two flavors and gives them more depth. Adding the vanilla bean paste provides a subtle vanilla flavor. The paste is made up of both vanilla extract and the seeds from a vanilla bean. It has the consistency of syrup or molasses which coats the almonds well.
I shared these with Jasper B and loved what he said: "I'd forgotten how much the flavor of cardamom and coffee permeates my ancient history. It's a Middle East favorite." His gift in return was sharing a wonderful food memory from his youth growing up in the Middle East. Ah, the power of food.
Whip some of these up to have on hand when family or friends stop by and create some new food memories.
Thank you to Embry H for this whimsical piggy dish – perfect to show off these festive nuts.
P.S.  We brought these to my sister and brother-in-law's house for Christmas Eve. I'm happy to report that our littlest niece, Margaret S (almost 3), couldn't get enough of them. She must have a taste for coffee like her parents.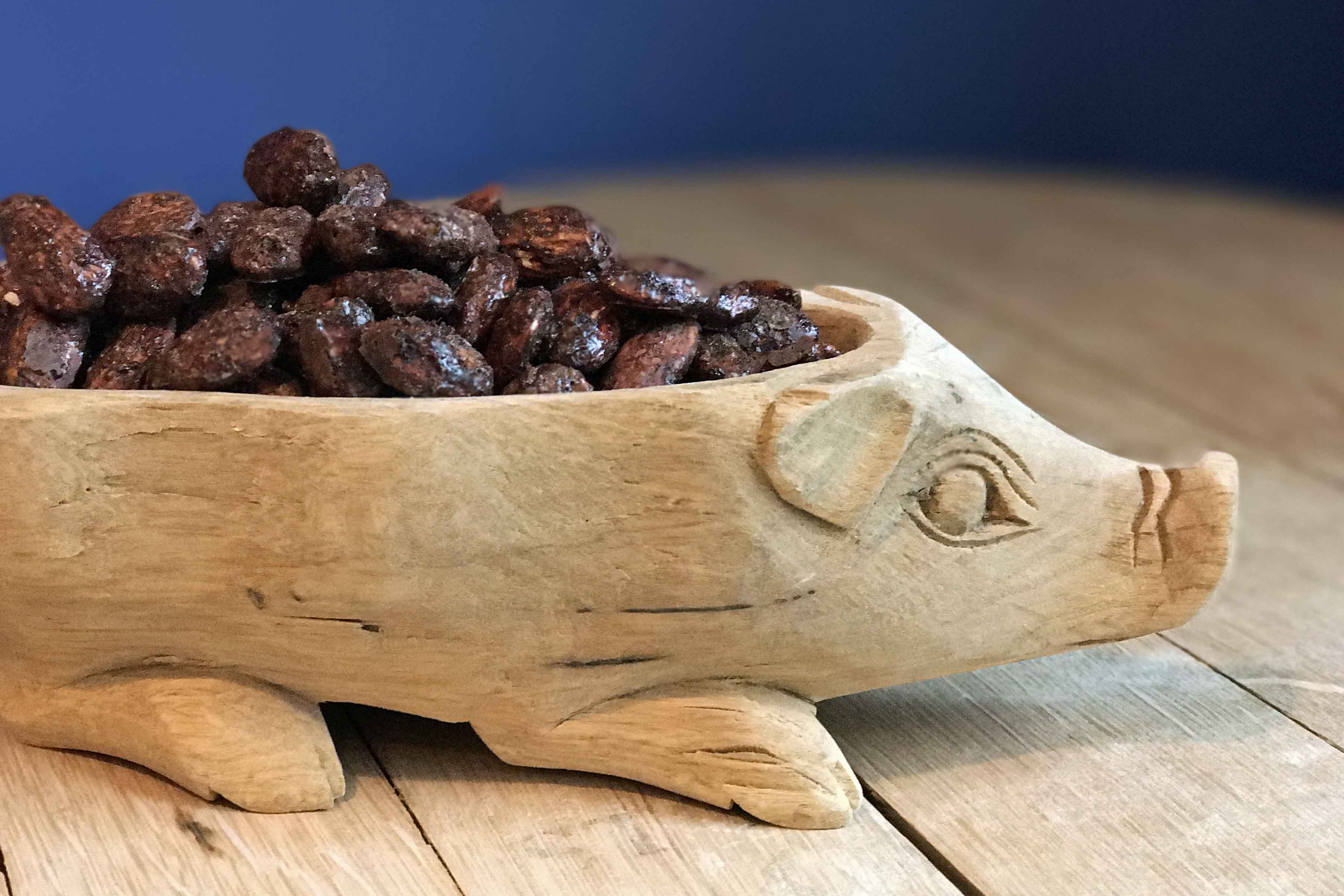 | | | |
| --- | --- | --- |
| Cocoa-Espresso-Cardamom Almonds | | Print |
Ingredients
½ cup white sugar
2 tablespoons unsweetened cocoa powder
2 teaspoons instant espresso powder
1-1/2 teaspoons ground cardamom
½ teaspoon fine sea salt
1 egg white (from large egg)
1 tablespoon vanilla bean paste (see notes)
3 cups raw almonds (~ 1 pound)
Instructions
Preheat your oven to 275°F. Line a baking sheet parchment paper and set aside.
In a small mixing bowl, combine sugar, cocoa powder, espresso powder, cardamom and salt. Whisk to remove any lumps.
In a larger mixing bowl, whisk together egg white and vanilla bean paste until frothy.
Add almonds and toss in egg mixture.
Pour the sugar and cocoa mixture into the almond and egg mixture. Stir until almonds are evenly coated.
Transfer almonds to the prepared baking sheet. Spread into an even layer.
Roast for about 40 to 45 minutes, stirring every 10 to 15 minutes. Watch them carefully so they do not burn.
Cool on baking sheet. Once cooled break clusters into individual almonds.
Store in an airtight container or ziplock bag at room temperature for up to two weeks or freeze for up to 3 months.
Source:  Adapted from My Kitchen Addiction