Some 20 years ago I tried soaking dried beans and they turned out terrible because they never softened up. As a result, I never tried again until recently. My friend Wendy H recently told me that she had found a recipe for cooking beans in the oven and that they turned out much better than the canned version. I had to try this for myself and was so glad that I did. It was very easy and the result is a much tastier bean. It's definitely worth the effort (which is very little).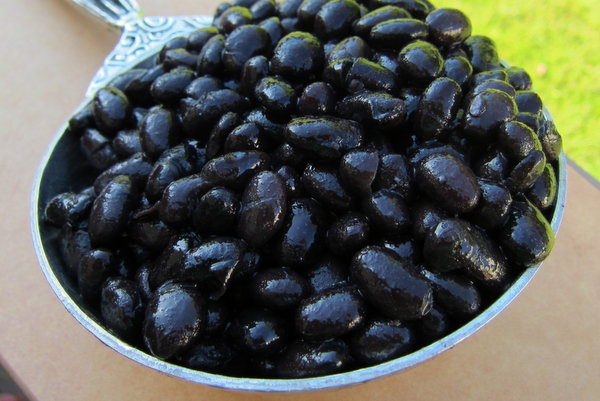 | | | |
| --- | --- | --- |
| Cooking Dried Beans | | Print |
Serves:
Makes about 5-6 cups
Ingredients
1 pound dried beans (such as black beans)
water
salt
Instructions
Heat oven to 325°F.
Place 1 pound (16 ounces) of dried beans in a 3-quart (or larger) Dutch oven or pot with a tight-fitting lid
Add 2 teaspoons of salt (if desired).
Add enough water to cover beans by about an inch.
Cover pot and cook for 75 minutes.
At this point check beans and stir them. Test one - if tender then remove from oven. If not, put them back in the oven for 15 minute intervals, adding a cup of hot water if they are drying out. They are likely to take 90 to 120 minutes.
Let cool. Drain and rinse beans in a colander.
Notes
1 pound of dried beans (16 ounces) equals about 5-6 cups of cooked beans (or three 15.5 ounce cans of beans)
Source:  Adapted from The Kitchn