I may be the one of Irish descent in our house but Ed's the one who loves the Irish-American tradition of corned beef for St. Patrick's Day.  I'm not sure how that figured into his Hungarian-Italian upbringing.
It wasn't until we had been married for a few years that I even tasted corned beef and cabbage. I recall it as it was an exception – St. Patrick's Day in 2000 fell on a Friday during Lent and Philadelphia's Catholic Bishop had granted a special dispensation allowing the serving of meat. Our friends Steve and Kathleen T made a big batch in a slow cooker that day. While I liked it I wasn't sure that it was worthy of a special dispensation (no disrespect to our friends' cooking). The meat was good but cooked cabbage wasn't my cup of tea.
Given this I was happy when Ed found this recipe a few years ago for corned beef hash – tasty meat minus the cabbage. Plus most things are better with an egg on top. This recipe is best prepared over two days. Cook the meat, potatoes and onions on day 1 as this allows for the flavors to develop. The following day shred the meat and brown it in a pan along with the potatoes and onion. Top if off with some poached eggs. I suppose this could be breakfast or brunch but we prefer to serve it as dinner.  Much easier to justify having a Guinness with it later in the day.
If you're not convinced that this is a better alternative I'll offer up the old standby from my friend, Michele M. Her recipe for Corned Beef and Cabbage was just published in Scranton, PA's The Times Tribune – March of Tradition: Scranton Woman Makes Popular Dish of Corned Beef and Cabbage for Parade Day. Did you know that Scranton hosts one of the largest St. Patrick's Day parades in the country? While Michele is of Italian-German descent her husband, John, has some Irish in him. Her secret?  Beer in the recipe.  After testing many she prefers Yuengling Lite Lager (not to be confused withe Yuengling Lite) as it produces the best flavor. Don't worry – they prefer Guinness for drinking to celebrate this important Irish day.
Gluten-Free/Wheat-Free Options: Corned beef should be gluten-free/wheat-free. Be sure to look at the packaging. If by chance it's pickled in malt vinegar it will not be (only a slight chance of it). The rest of the ingredients in this recipe are safe.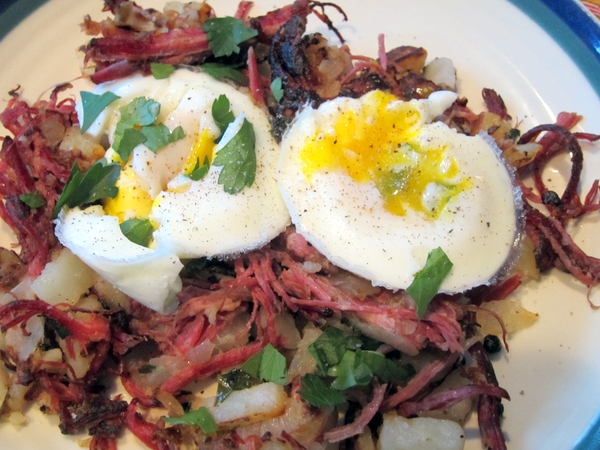 | | | |
| --- | --- | --- |
| Corned Beef Hash and Poached Eggs | | Print |
Ingredients
2 pounds uncooked corned beef brisket (about 1 small), rinsed, trimmed if fatty, spice packet discarded if included
4 sprigs flat-leaf parsley
3 bay leaves, torn
1 tablespoon black peppercorns
1 tablespoon coriander seeds
1 tablespoon yellow mustard seeds
1 large onion, peeled, halved through root
2 large russet potatoes, peeled, halved crosswise
¼ cup chopped fresh flat-leaf parsley, plus more for serving
Kosher salt, freshly ground pepper
2 tablespoons olive oil
1 teaspoon distilled white vinegar
4 large eggs
Fresh chives, chopped
Flat-leaf parsley, chopped
Instructions
For Corned Beef:
Place corned beef in a large Dutch oven or other heavy pot (at least 5 quarts) and add water to cover by 1". Add parsley sprigs, bay leaves, peppercorns, coriander seeds, and mustard seeds. Bring to a boil; reduce heat, cover, and simmer, skimming surface often and adding more water to pot as needed to keep meat submerged, until corned beef is tender, 3-1/2 to 4 hours.
Add onion and potatoes to corned beef in pot, cover and cook until vegetables are very tender, 20 to 25 minutes. Remove onion and potato from pot. Let cool; wrap separately and chill.
Let corned beef cool in cooking liquid. Transfer corned beef to an airtight container and add as much cooking liquid as will fit (at least 1 cup). Cover and chill. Discard any remaining aromatics and cooking liquid.
For Hash:
Remove corned beef from cooking liquid and shred enough to measure 2 cups. Use any remaining corned beef for sandwiches or snacking.
Preheat oven to 200°F. Chop the cooked onion and cut cooked potato into ½" pieces; toss in a large bowl with corned beef and ¼ cup parsley. Moisten with cooking liquid if mixture is dry; season with salt and pepper.
Heat olive oil in a large nonstick skillet over medium heat. Add half of the corned beef mixture (or what will fit in the pan). Cook undisturbed, pressing down with a spatula, until underside is brown and crisp about 8 to 10 minutes. Carefully flip over the hash and cook the second side until brown and crisp another 8 to 10 minutes.
Transfer hash to a rimmed baking sheet (it may break up a little), tent with foil, and keep warm in oven until ready to serve.
Repeat with remaining olive oil and corned beef mixture.
For Poached Eggs:
Fill a sauce pan large enough to hold 4 eggs with 2" of water. Bring to a boil. Reduce heat to a gentle simmer and add vinegar. About 5 minutes before hash is cooked, crack an egg into a small bowl and gently slide egg into water. Repeat with remaining eggs, waiting until whites are opaque before adding the next (about 30 seconds apart). Poach until whites are set and yolks are still runny, about 3 minutes. Using a slotted spoon, transfer eggs as they are done to paper towels.
Serve eggs over hash, seasoned with salt and pepper and topped with chives and more parsley.
Notes
* This recipe works best if you prepare it over two days – make the corned beef on the first day and hash and eggs the following day.
* Corned beef and vegetables can be cooked 2 days ahead; keep chilled until ready to use to make the hash.
Source:  Variation on recipe from 
Bon Appétit
, March, 2014