I was thinking about the Cranberry Gin and Tonics that I had made two years ago.  I really liked that recipe but wanted to make a more traditional syrup (the "original" recipe was more like cranberry sauce) with some new flavors. This Cranberry-Thyme Syrup ended up being a great alternative – more on the savory (if that's a term you can use for cocktails) rather than sweet side. I took a cue from the gin and added juniper berries to the syrup mixture plus some fresh thyme. The key is letting the syrup steep for a few hours after heating so the flavors can really meld and develop. I also used raw or Turbinado sugar which gives it a darker color and slight caramel flavor (white sugar will work just fine, too). The end result?  A Cranberry-Thyme Gin and Tonic.
While this is a great addition to Gin and Tonics, my friends who I tested this on also thought it would go well in a rum or vodka-based cocktail.
Holiday Tip:  This syrup keeps for about two months – so make it now so you have it on hand for gatherings or parties throughout the holidays. You'll impress guests when you whip up a fun cocktail.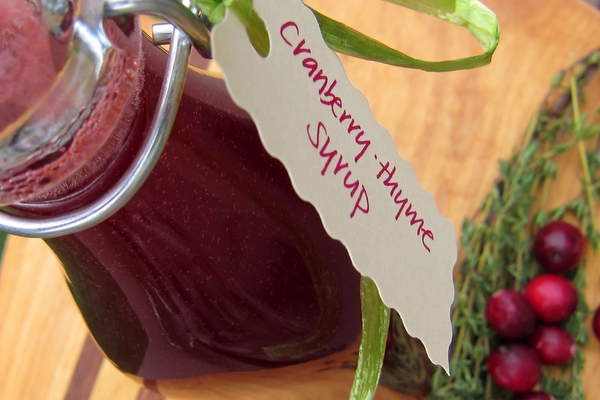 | | | |
| --- | --- | --- |
| Cranberry-Thyme Syrup | | Print |
Ingredients
1 cup fresh cranberries
1 cup raw sugar
1 cup water
3 sprigs of fresh thyme
6 juniper berries
Instructions
Bring cranberries, sugar, water, thyme and juniper berries to a boil in a medium saucepan set over medium-high heat. Stir sugar until it completely dissolves.
Let mixture boil for 2 minutes, breaking up cranberries with the back of a wooden spoon to break them down.
Remove the pan from the heat and set aside to cool to room temperature allowing the flavors to deepen – about 2 hours.
Once cooled, pour syrup through a strainer and discard the solids. Pour it once again through the strainer to remove any small solids (you've now double strained the syrup).
Store in a glass jar. Keeps about 2 months in the refrigerator.
Notes
* Recipe can easily be doubled or tripled - just use a larger pan for heating.
* If you don't have raw or Turbinado sugar, you can use regular white sugar.