We recently enjoyed a lovely meal with friends at one of our most favorite spots, Wyebrook Farm. This property has been farmed for over 200 years – most recently by Dean and Emelie Carlson. After spending 15 years on Wall Street, Dean decided that farming was the path he wanted to take. They found this wonderful 355-acre piece of property in bucolic western Chester County, Pennsylvania and set about restoring it to its former glory.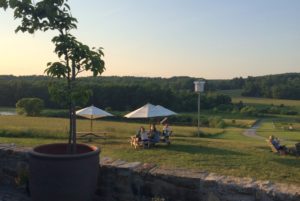 While raising cows, pigs, lambs, chickens and ducks by following sustainable practices, they also restored the 18th century barn and turned it into a restaurant and butcher shop. The first time we visited I thought Ed had gone to the bathroom and I looked inside to see him buying steaks to take home with us. Just the kind of shopping he likes to do.
All the meat on their menu is raised at Wyebrook. This means you may see some things you're not used to seeing as they try to use as much of the animal as possible. In addition to showcasing their own products they are big supporters of all things local so you'll find wonderful cheeses, fresh vegetables and amazing ice cream all from the area on their menu. At this time of year there's plenty of seating for the perfect al fresco dining with gorgeous views.
So it's kind of ironic that a heavily meat/poultry producing farm inspired this soup. I very much enjoyed the cold cucumber soup that I had during my visit so I set out to make one of my own. This is the ideal soup for a warm summer evening as it marries the flavors of the cucumbers and fresh herbs with the tangy yogurt; it cools you down. It smells a lot like raita (an Indian cucumber-yogurt sauce) which it essentially is, just in a puréed form. Raita's function is to cool down your mouth after eating spicy food.
Pair this with a nice salad for a simple meal or serve it in small (shooter-style) glasses for a great summer hors d'oeuvre. It's also a great way to use your summer herbs. And make a note to visit Wyebrook Farm for a wonderful meal and experience.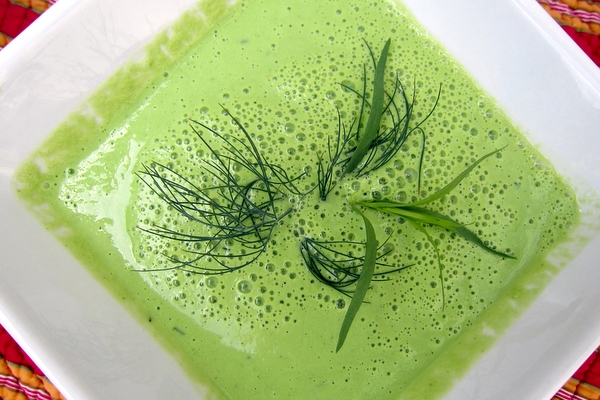 | | | |
| --- | --- | --- |
| Cucumber and Herb Soup | | Print |
Serves:
Makes about 5 cups
Ingredients
1-1/2 cups fat-free plain Greek yogurt (~ 15 ounces)
3 tablespoons fresh lemon juice (~ 1 lemon)
¼ cup extra-virgin olive oil
3 large seedless European cucumbers (~ 2-1/4 pounds), keep skin on and roughly chopped
1 small shallot, roughly chopped
1 garlic clove
⅓ cup loosely packed fresh dill
¼ cup loosely packed fresh flat-leaf parsley
2 tablespoons loosely packed fresh tarragon leaves
½ teaspoon sea salt
¼ teaspoon freshly ground white pepper
Instructions
In a blender, food processor or Vitamix, place all ingredients (in order listed) and blend until smooth. Season with additional salt and pepper as needed.
Pour into a bowl or pitcher and cover. Chill in refrigerator for at least four hours or overnight so the flavor can develop.
Serve chilled in bowls or shooter-style glasses.
Notes
* Depending on the size of your blender, food processor or Vitamix you may have to make this in two batches. I was able to fit everything in my 64 ounce Vitamix.
* It's important to follow the order of the ingredients as having the more liquid ingredients near the machine blade makes it easier to blend.
Source:  Variation on a recipe by Andrew Zimmern from Food & Wine