Ed surprised me with this fun daisy cake pan years ago and I've enjoyed making cakes in it ever since. This one is particularly yummy. It's a simple lemon cake that can hold up on its own or pairs well with fresh fruit or sorbet (raspberry is my favorite). Don't have a daisy cake pan? No worries, this cake fits well into any 10-inch Bundt pan.
This is a lovely cake for a Mother's Day celebration or upcoming spring party. Don't forget the confectioners' sugar!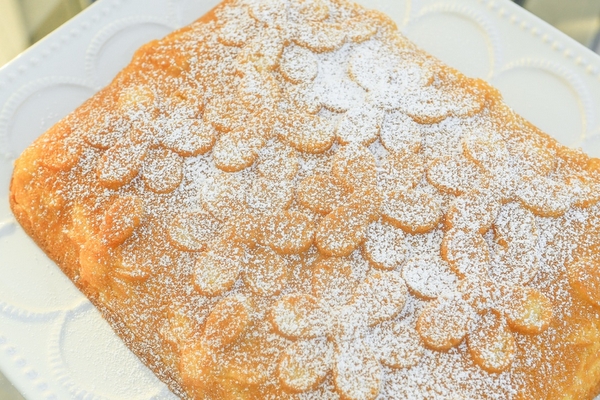 Photo by Betsy Barron Photography
Ingredients
2 cups all-purpose flour
2 teaspoon baking powder
1⁄2 teaspoon salt
8 tablespoons (1 stick) unsalted butter, at room temperature
1-1⁄2 cups sugar
1 teaspoon vanilla extract
1 teaspoon lemon extract
zest of 1 lemon
4 whole eggs plus 2 egg yolks
1 cup buttermilk
1⁄4 cup water
1 teaspoon lemon extract
1⁄3 cup sugar
1 tablespoon light rum
Confectioners' sugar for dusting
Instructions
Preheat an oven to 325ºF. Grease and flour a daisy cake pan.
Over a sheet of parchment paper or in a bowl, sift together the flour, baking powder and salt. Set aside.
In the bowl of a stand mixer fitted with the flat beater, beat the butter on medium-high speed until smooth, 1 to 2 minutes.
Gradually add the sugar, beating until light and fluffy, 3 to 5 minutes.
Beat in the vanilla, lemon extract and lemon zest.
Add the eggs and yolks one at a time, beating well after each addition and scraping down the sides of the bowl as needed.
Reduce the speed to low and fold in the flour mixture in three additions, alternating with the buttermilk and beginning and ending with the flour, beating until smooth and combined.
Spoon the batter into the prepared pan.
Bake until a toothpick inserted into the center of the cake comes out clean, about 50 minutes.
Transfer the pan to a wire rack and let the cake cool in the pan for 10 minutes. Set the rack over a sheet of parchment or waxed paper, invert the pan onto the rack and lift off the pan.
In a small bowl, stir together the water, lemon extract, sugar and rum until the sugar dissolves.
Brush the warm cake with the glaze.
Let the cake cool completely before serving.
Just before serving, dust the cake lightly with confectioners' sugar.
Notes
* Freezes well. Wrap in plastic wrap and aluminum foil after the cake (and glaze) have cooled.
* I recommend using SACO Cultured Buttermilk Blend in place of fresh buttermilk. You'll find it in the baking section of your grocery store. Follow directions on the container for use. It keeps for a few years refrigerated so you always have buttermilk on hand.
* Using a regular Bundt pan - cook for 60 minutes (instead of 50 minutes).
Source:  Variation of a recipe from Williams-Sonoma Kitchen (website)