Just in time for Valentine's Day, here's the perfect brownie recipe for the chocolate lover in your life. "Perfect" in that these are some of the best brownies I have ever had and the recipe is super easy – almost as easy as making them from a box. They have a great dark chocolate flavor (from high-quality cocoa powder, not chocolate pieces) and a fudgy consistency. Don't cut back on the salt – it works really well with the chocolate.
They do crumble a bit, so take extra care when cutting them. Someone once told me to use a plastic disposable knife to cut brownies. I had never tried it before, but did with this recipe and it worked better than my good quality knives. A pizza cutter (thanks Michele M!) also works very well.
Want to make it extra special for Valentines Day (or any other special occasion)? Use a heart-shaped cookie cutter to cut up the brownies. And, save the "scraps" to add to vanilla ice cream for a brownie sundae – I assure you nobody will mind eating the "scraps!"
Gluten-Free/Wheat-Free Option:  I've been wheat-free for over two years and hadn't had a brownie. Probably the longest I've gone in my life since I was an infant. I recently made this recipe using Cup4Cup flour in place of all-purpose flour. Wow – you would never know these were gluten-free. It helps that this recipe calls for very little flour in the first place. There's no need to tell anyone they are gluten-free as nobody would ever know. Amazingly good!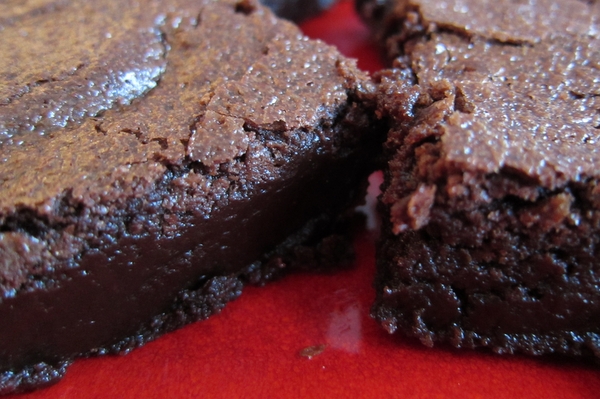 | | | |
| --- | --- | --- |
| Dark Chocolate Brownies | | Print |
Serves:
Makes 16 brownies
Ingredients
½ cup (1 stick) unsalted butter, cut into 1" pieces
1¼ cups sugar
¾ cup Scharffen Berger natural unsweetened cocoa powder (or other high-quality cocoa powder)
1 teaspoon kosher salt or coarse sea salt
1 teaspoon vanilla extract
2 large eggs
⅓ cup all-purpose flour (or gluten-free flour)
Nonstick vegetable oil spray
Instructions
Preheat oven to 325°F. Line an 8x8x2" glass baking dish with foil, pressing firmly into pan and leaving a 2" overhang. Coat foil with nonstick spray; set baking dish aside.
Melt butter in a small saucepan over medium heat or in a microwave. Let cool slightly.
Whisk sugar, cocoa, and salt in a medium bowl to combine.
Pour butter in a steady stream into dry ingredients, whisking constantly to blend.
Whisk in vanilla.
Add eggs one at a time, beating vigorously to blend after each addition.
Add flour and stir until just combined (do not overmix).
Scrape batter into prepared pan; smooth top.
Bake until top begins to crack and a toothpick inserted into the center comes out with a few moist crumbs attached, 30-40 minutes.
Transfer pan to a wire rack; let cool completely in pan.
Using foil overhang, lift brownie out of pan; transfer to a cutting board and cut into 16 squares.
Notes
* To make them gluten-free substitute the same amount of gluten-free flour for all-purpose flour. I recommend
Cup4Cup's Original Flour Blend
.
* Double recipe and bake in a 9x13x2" glass baking dish (yields 32 brownies).
* Freezes well.
Source:  Variation on recipe from Bon Appétit, December, 2012