A little less than a year ago I started working out with a personal trainer, Steph P, at the Phoenixville Y. While I've been working out regularly since Ed and I married, I've never been one to engage with a personal trainer or attend workout classes. But, I knew as I was getting older that I had to reach beyond my comfort zone.
Steph was great! She pushed me to do more exercises (and reps) than I had ever done. She also gave me the courage to start attending some of the her early morning classes. I'm now happy to say that I'm a regular at both Kettlebell and Pilates classes during the week. These classes paired with cardio (machines and tennis) help to give me the well-rounded workout that I needed.
The added bonus is the wonderful people with whom I've met or reconnected with in class. Keith who likes to change up the music so he'll bring in new playlists; Wendy, my long time tennis friend and neighbor, who is now doing Kettlebell, and Dan with whom I worked with back in the 1990s at Environex, to name just a few. A few weeks ago Jeanne and George (a lovely couple who attend more classes than I could ever dream of going to) volunteered to make a playlist for Pilates class which falls on St. Valentine's Day this year. And, Steph, knowing how I love cook, volunteered me to bring in a treat.
I thought that dark chocolate and cherries were a good early morning St. Valentine's Day combination. I used Cup4Cup flour for the base (you can use the same amount of regular all-purpose flour in its place) along with some hazelnut flour (simply ground hazelnuts). I was going to use almond flour but couldn't easily find it so thought that hazelnut flour was a great substitute. The nut flavor isn't very strong but it does provide a nice texture to the muffins. Don't have hazelnut or almond flour? Simply use all all-purpose flour. Plus, use coarse sea salt instead of regular table salt as it will intensify the chocolate flavor.
How fun was it when one of the muffins came out of the oven with a chocolate chip in the shape of a heart? Look closely at the center muffin (you may need to use a bit of imagination).  Happy St. Valentine's Day to all!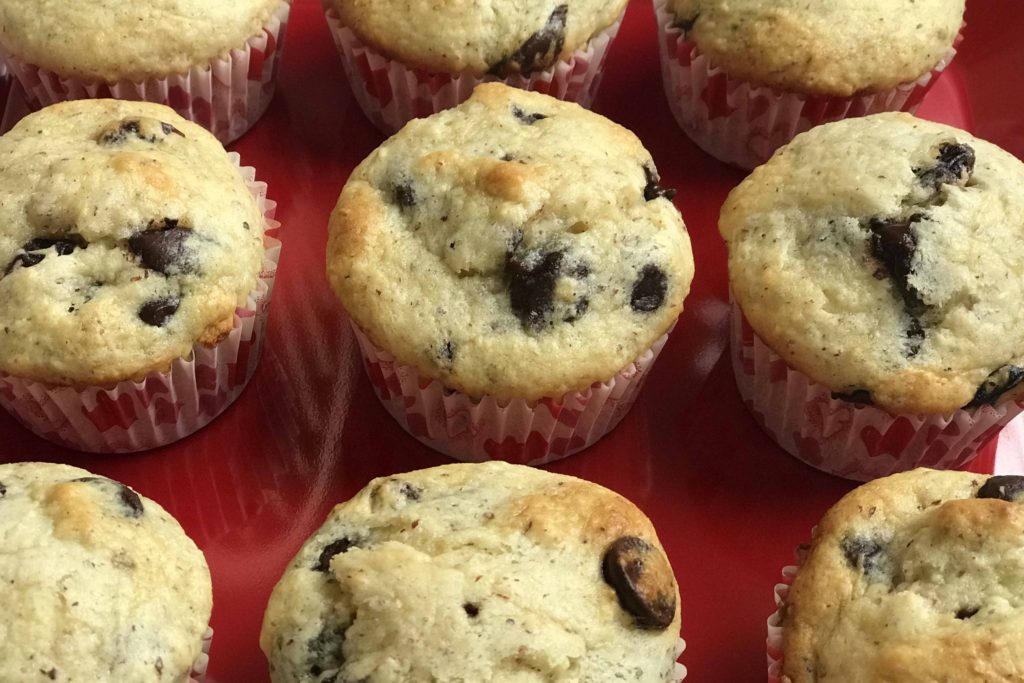 | | | |
| --- | --- | --- |
| Dark Chocolate Chip-Cherry Muffins (Gluten-Free) | | Print |
Ingredients
1-1/2 cups all-purpose flour or gluten-free flour (see Note)
½ cup hazelnut or almond flour (see Note)
⅔ cup sugar
1 tablespoon baking powder
½ teaspoon coarse sea salt
1 cup dark chocolate chips
1 cup dried cherries
1 cup milk (2% or higher)
¼ canola oil
2 large eggs
1 teaspoon vanilla extract
Instructions
Preheat oven to 400°F. Line a muffin tin with paper muffin cups.
In medium bowl, whisk together flours, sugar, baking powder and salt. Add chocolate chips and cherries.
In a large bowl, whisk together milk, oil, eggs and vanilla. Add the flour mixture to the bowl and stir until it is just moistened; the batter will be lumpy.
Scoop the batter into the muffin tin, dividing the batter evenly among each cup.
Bake for 20 to 22 minutes until tester comes out clean and muffins are golden brown.
Variation of a recipe from the Cup4Cup