Is something ever too chocolaty for you? If you answered "never" then this tart is for you! It's a combination of dark chocolate goodness balanced nicely with hazelnuts and a gingersnap crust. The secret ingredient is Nutella – a chocolate-hazelnut spread – which adds a bit of creaminess (and flavor) to the tart. Not a fan of Nutella? I have discovered that some people are not. Don't worry – unless someone told you it was in the tart, you wouldn't realize it.
I prefer this with a gingersnap crust, but this recipe also works well with a graham cracker crust. I recommend taking the tart out of the refrigerator when you are serving your main dish, as it will be much easier to cut when dessert comes around. Start with small slices as this is a very rich dessert. Plus, it's always nice when someone asks for seconds because they like it so much.
Gluten-Free Note:  I have also made this using gluten-free ginger snaps and it's just as good as the original.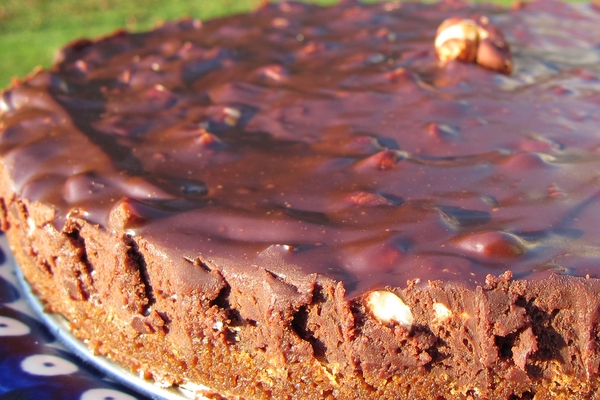 | | | |
| --- | --- | --- |
| Dark Chocolate-Hazelnut Tart | | Print |
Ingredients
1½ cups gingersnap cookie crumbs (8 ounces) - see "Notes" for gluten-free version
¾ stick (6 tablespoons) unsalted butter, melted
¼ teaspoon salt
1 cup hazelnuts (4¾ oz), coarsely chopped
1 cup heavy cream
10½ oz fine-quality bittersweet chocolate (not unsweetened), finely chopped
½ cup chocolate-hazelnut spread, such as Nutella
Instructions
Make crust and toast nuts:
Preheat oven to 350°F.
Invert bottom of 9" springform pan (so that turned-up edge is underneath for easier removal of tart) and close side of pan onto bottom.
Stir together crumbs, butter, and ⅛ teaspoon salt in a bowl, then press onto bottom of springform pan.
Bake crust in lower third of oven 7 minutes, then cool crust in springform pan on a rack.
While crust bakes, toast hazelnuts in a shallow baking pan next to tart crust stirring once, until golden, about 5-7 minutes.
Transfer to a plate and cool to room temperature.
Bring cream to a boil in a 1- to 2-quart saucepan, then pour over chocolate in a heatproof bowl, whisking until chocolate is melted and smooth.
Whisk in chocolate-hazelnut spread until combined, then whisk in nuts and remaining ⅛ teaspoon salt.
Pour filling onto cooled crust and put in freezer until just set, about 25 minutes (Tart should not be frozen.) Move to refrigerator after initial 25 minutes in freezer.
Remove side of pan before serving tart.
Notes
* For ease use high-quality bittersweet chocolate chips instead of blocks of chocolate - no need to cut anything.
* This tart can be difficult to cut - I recommend taking it out of the refrigerator at least 20 minutes before serving and using a large chef's knife.
* Tart can be made 4 days ahead and chilled in pan, covered.
* To make gluten-free/wheat-free use MI-DEL Gluten-Free Ginger Snaps. Tastes just as good as the "with gluten" version.