I know that many people think that ice cream is a summer dessert but I like it all year round. I have been making ice cream at home for years – apparently enough that I wore out one ice cream maker (that I inherited from my mother-in-law) and recently had to purchase a new one.  
But, it wasn't until this fall that I found a book with recipes that make it really worth the effort to make it at home since there are so many good ice creams you can buy. A huge thank you to Jeni Britton Bauer for her Jeni's Splendid Ice Creams at Home cookbook. Every ice cream I have made from this book has turned out rich and creamy, not icy and crumbly, like some of my previous attempts. I recently had dessert at a good local restaurant that boasted homemade ice cream and it didn't even come close to what I had made from Jeni's book.
For chocolate lovers this is the ideal ice cream. It's a complex flavor that is dominated by dark chocolate, but you can taste a hint of coffee, too. I definitely recommend using high quality chocolate. This ice cream is great on its own, but you can also add a bit of flavor – such as peppermint which makes it great for the holidays or orange for those who love that chocolate-orange combination (like me).
One of the reasons I like to make ice cream during the cold weather is it allows me to put the ice cream maker outside. It has to churn for about 20-25 minutes and it's rather loud, so putting it outside allows it to not only stay colder, but also buffers the noise. Of course, you have to have an outlet outside. And, a friendly reminder that you probably need to freeze the canister from your ice cream maker for 24 hours before preparing the ice cream.
If you like making homemade ice cream, I highly recommend getting Jeni's book.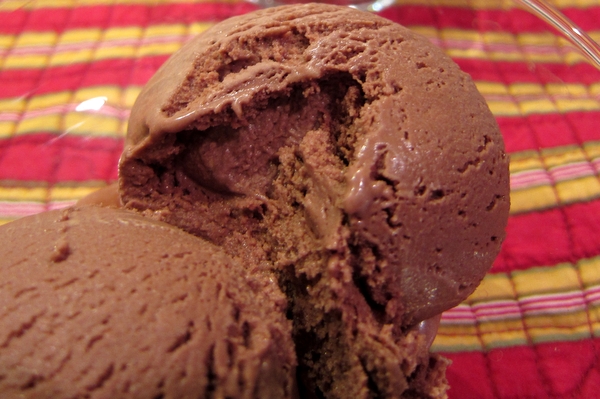 | | | |
| --- | --- | --- |
| Dark Chocolate Ice Cream | | Print |
Serves:
Makes a generous 1 quart
Ingredients
½ cup unsweetened cocoa powder (prefer Dutch process)
½ cup brewed coffee
½ cup sugar
1-1/2 ounces bittersweet chocolate (55% to 70% cacao), finely chopped
2 cups whole milk
1 tablespoon plus 1 teaspoon cornstarch
1-1/2 ounces (3 tablespoons) cream cheese (full fat) or crème fraiche, softened
⅛ teaspoon fine sea salt
1 cup heavy cream
½ cup sugar
2 tablespoons light corn syrup
Optional: ¼ teaspoon peppermint, orange or other oil for flavoring
Instructions
Prep
For the chocolate syrup: Combine cocoa, coffee, and sugar in a small saucepan, bring to a boil over medium heat, stirring to dissolve sugar, and boil for 30 seconds. Remove from heat, add chocolate, and let stand for 5 minutes. Stir the syrup until smooth. Set aside.
For the ice cream base: Mix with a fork about 2 tablespoons of milk with cornstarch in a small bowl to make smooth slurry. Whisk cream cheese or crème fraiche, warm chocolate syrup, and salt in a large bowl until smooth. Don't worry if mixture sticks to the whisk.
Fill a large bowl with ice and water.
Cook
Combine remaining milk, cream, sugar, and corn syrup in a 4 or 5-quart saucepan, bring to a rolling boil over medium-high heat, and boil for 4 minutes. (Watch the pan so mixture doesn't boil over.)
Remove from heat and gradually whisk in cornstarch slurry.
Bring mixture back to a boil over medium-high heat and cook, stirring with a heatproof spatula, until slightly thickened, about 1 minute.
Remove from heat.
Gradually whisk hot milk mixture into cream cheese mixture until smooth (it may be easier to transfer the hot milk mixture to a 4-cup measuring cup if your saucepan is heavy).
Chill
Pour mixture into a 1-gallon Ziploc freezer bag and submerge the sealed bag in the ice bath.
Let stand, adding more ice as necessary, until cold, about 30 minutes.
Alternately, if you are not finishing the ice cream on the same day you can chill the mixture in refrigerator for up to 2 days.
Freeze
Pour the ice cream mixture into the frozen canister of your ice cream maker and spin until thick and creamy.
The ice cream is finished at the exact moment when the machine isn't freezing the ice cream anymore; ice cream will begin to pull away from the side (about 20-25 minutes).
Pack ice cream into a freezer-safe storage container, press a sheet of parchment paper directly against the surface, and seal with an airtight lid.
Freeze in the coldest part of your freezer until firm, at least 4 hours and up to a few weeks.
Adding Flavoring
If adding flavoring such as peppermint or orange, add ¼ teaspoon peppermint or orange oil just as you turn on the ice cream maker (after you've added the ice cream mixture).
Source:  Variation of a recipe from Jeni Britton Bauer's Jeni's Splendid Ice Creams at Home (2011)