A dark rum and tonic to me means summer. For as long as I can remember it's been the drink of choice in my family. In fact it was my first "go-to" cocktail.
I recently asked my dad what made him decide to mix dark rum with tonic. We all know about mixing gin or vodka with tonic but not many people use rum. While he couldn't pinpoint the time that he started to enjoy this drink he did have a few thoughts. First off, he's always liked rum. When his liquor cabinet was more limited he'd stock Myer's Dark Rum from Jamaica as it had more flavor than a white or silver rum. He also recalls his dad making rum drinks such as daiquiris in the 1950s when "tiki drinks" were popular. And one of his mom's favorite cakes was angel food with a chocolate-whipped cream-rum frosting. So perhaps a taste for rum runs in the family?
While we have a few different rums in our liquor cabinet, we always have a bottle of Myer's on hand just in case we have a hankering for this drink. While the rum of choice hasn't changed over the years the tonic has. As I was hanging up the phone my dad said "don't forget to use the good tonic water." Back in the day it was your traditional Canada Dry or Schweppes. Now we go for the more high quality tonic waters – our favorite is Fever-Tree Indian Tonic Water. I'll give some credit to my generation for that change as I was an early adopter of these tonic waters.
In addition to rum and tonic water all you need is a juicy lime. Fill up your glass with ice, pour in the rum and top off with tonic water. The bubbles should be enough to mix the drink but if not give it a good stir. Take a slice of lime and rub it around the rim of your glass before squeezing it into your drink. With each sip you'll get sweet (rum), bitter (tonic water) and tart (lime) which results in a cocktail with some depth.
I enjoyed this dark rum and tonic at my favorite summer getaway on Lake Champlain in upstate New York.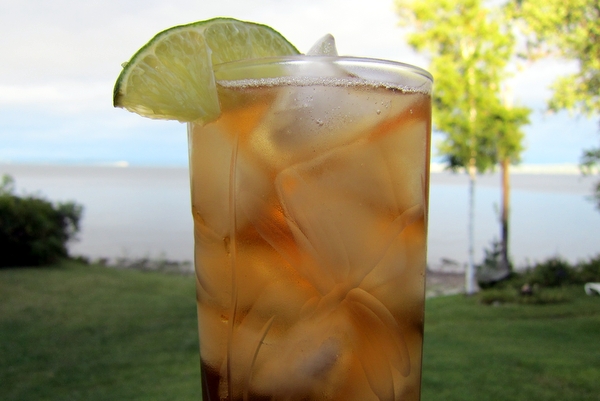 Ingredients
4 ounces dark rum (such as Myer's Rum)
High quality tonic water (such as Fever-Tree Tonic or Q Tonic)
Lime slices (for garnish)
Instructions
Fill highball glass with ice. Add dark rum. Top with tonic water and stir.
Rub lime slice around rim of glass and add to drink.