Here's another example of a tasty, but fairly simple recipe – not a lot of ingredients, all mixed by hand in one bowl.  The can of corn adds some more texture and moisture.  If you have fresh corn, you can use that instead.  You'll never go back to boxed cornbread after making this, I promise.  And, it goes well with chili, BBQ, soup and so many other things.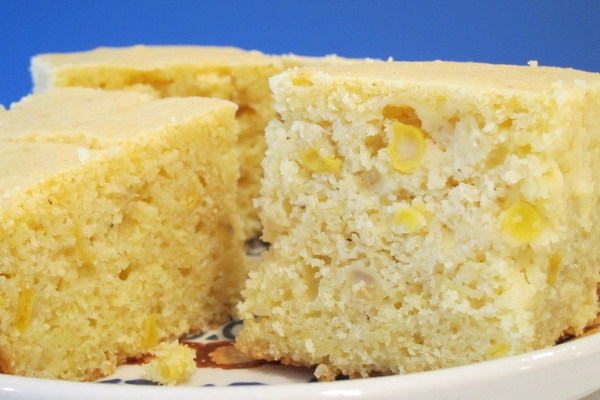 | | | |
| --- | --- | --- |
| Double Corn Cornbread | | Print |
Ingredients
1 cup stone-ground cornmeal
1 cup flour
⅓ cup sugar
2½ teaspoons baking powder
¼ teaspoon salt
1 cup buttermilk (see note below)
6 tablespoons (3/4 stick) unsalted butter, melted
1 egg, slightly beaten
1 small can of corn, drained
Instructions
Preheat oven to 400°F. Grease a 9-inch square baking pan. Stir dry ingredients together in a bowl. Then stir in buttermilk, butter and egg and mix gently. Add can of corn and mix.
Pour batter in prepared pan, set on the middle rack of the oven, and bake for 25 minutes. Cornbread is done when edges are lightly browned and a knife inserted in the center comes out clean.
Cut into 16 squares to serve.
Notes
* Freezes well.
* I recommend using SACO Cultured Buttermilk Blend in place of fresh buttermilk. You'll find it in the baking section of your grocery store. Follow directions on the container for use. It keeps for a few years refrigerated so you always have buttermilk on hand.
* Variations: bake in mini-muffin pans (makes about 3 dozen) for 10-11 minutes, bake in regular-sized muffin tins (makes 14 to 16) for 22-25 minutes or double recipe and bake in a 9×13 pan for 30-35 minutes.