This is a simple take on the popular Moscow Mule and more appropriate for the upcoming holiday. Instead of using vodka, substitute your favorite Irish whiskey. Irish whiskey was traditionally made in copper stills so serving this drink in a copper mug is a nod to its history. I like to use Jameson Irish Whiskey and have named this drink after Jameson's home town of Dublin (although it's now made in Midleton in County Cork).
If a drink has "mule" (or "buck") in the title it means the cocktail is either made with ginger beer or ginger ale and citrus juice. In this case it's good quality ginger beer (I prefer Fentimans Ginger Beer) and lime juice.
My new favorite cocktail tip? While I've read this for years I only recently started to do it. Before squeezing any citrus fruit, heat it in a microwave for about 30 seconds and then rub it back and forth on the counter top. This easy two-step process results in more juice per piece of fruit.
Gluten-Free/Wheat-Free Note:  While the ingredients used to make Irish whiskey may contain gluten many believe that the distillation process removes the gluten. As a result some with gluten sensitivities are okay with Irish whiskey while others are not.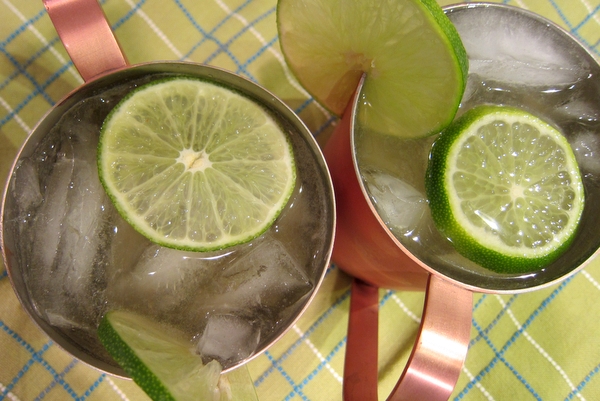 Ingredients
4 ounces Irish whiskey (such as Jameson Irish Whiskey)
2 ounce freshly squeezed lime juice (~ 2 limes)
8 to 12 ounces of good quality ginger beer
lime wheels (for garnish)
Instructions
Fill two copper mugs (or highball glasses) with ice.
Add Irish whiskey and lime juice.
Top with ginger beer and stir.
Garnish with a lime wheel.
Notes
* Be sure to use Ginger Beer and not Ginger Ale.
*
Fentimans Ginger Beer
is available at Wegmans in the natural food section.