I had a "parking lot" NPR moment last week. On my way to work I heard the start of a piece with Julian Fellowes of Downton Abbey fame about his new serial novel Belgravia and stayed in the car until it finished. From an historical perspective I learned many things but my favorite was that what we know as a proper English tea didn't come about until 1841 (much later than I would have thought). When the Duchess of Bedford created afternoon tea it was meant to sustain the English between lunch and dinner as the time gap had grown longer. The English had always taken tea but the concept of tea that also included some food to nibble on was new and in that era considered to be quite casual.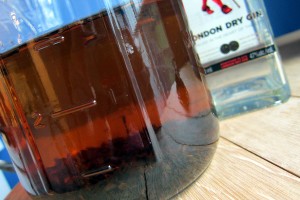 In this recipe I've taken the idea of tea and mixed it with another British favorite – gin. I was recently at Franklin & Marshall College for a meeting. During the break I was catching up with John W and talking about one of our favorite subjects – cocktails. Our conversation was so animated that we attracted the attention of other alumni who thought we were talking about something pertaining to the College's future. I like to think that we were putting our liberal arts education to work.
John shared with me a recipe for a simple infused gin. I was so excited by the thought of this gin as part of a gin and tonic that I stopped by to get the ingredients on my way home. All I needed was 3 tablespoons of loose Earl Grey tea leaves and a bottle of English dry gin such as Beefeater. Once home I put the tea into a big mason jar (larger than 750 ml or 26 ounces) and poured in the gin. For the next half hour I shook the jar to ensure that all the gin was infused by the tea. It didn't take long for the gin to turn from clear to a lovely deep golden color. When steeping was complete I strained the tea leaves and poured the gin back into its original bottle.
Part of my excitement was due in part to the following day (April 9) being International Gin and Tonic Day and I wanted to get an early start. Once the gin was properly steeped I added good quality tonic water (in this case Fever-Tree Indian Tonic Water) and lemons rather than limes as lemons and tea are a natural pairing. The tea intensified the flavor of both the botanicals in the gin and the tonic water making for a well-balanced cocktail. If you're sensitive to caffeine go for a decaffeinated Earl Grey tea (which is what I did).
Gluten-Free/Wheat-Free Note:  While the ingredients used to make gin contain gluten many believe that the distillation process removes the gluten. As a result some with gluten sensitivities are okay with gin while others are not. From my research most people with gluten sensitivities are okay with Beefeater.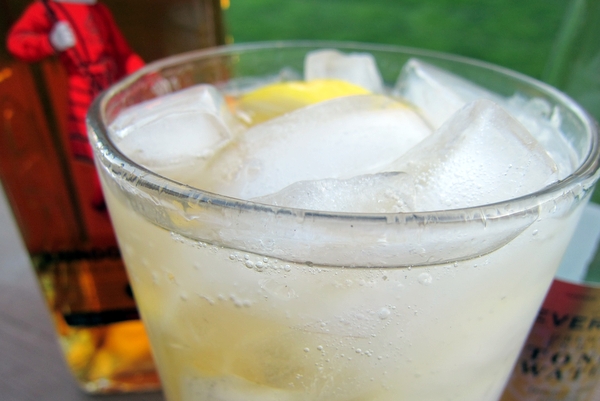 | | | |
| --- | --- | --- |
| Earl Grey Tea Gin and Tonic | | Print |
Ingredients
1-750 ml bottle relatively neutral gin (such as Beefeater's)
3 tablespoons loose Earl Grey tea (caffeinated or decaffeinated)
4 ounces infused Earl Grey gin
High quality tonic water (such as Fever-Tree Tonic or Q Tonic)
Lemon slices (for garnish)
Instructions
To make tea infused gin:
Place gin and tea in a large mason jar (more than 750 ml or 26 ounces) and cover tightly.
Shake jar every few minutes for 30 minutes total.
Strain gin through a gold coffee filter or cheesecloth covered fine mesh strainer into a large measuring cup.
Pour tea infused gin back into the original gin bottle.
To make cocktail:
Fill highball glass with ice. Add gin. Top with tonic water and stir.
Garnish with lemon slices.
Notes
* Use a neutral English dry gin such as
Beefeater
.
* I found loose tea in bulk at Wegmans so I bought just what I needed.
* A full bottle of gin will make 13 drinks (assuming 2 ounces per drink). You could also cut recipe in half or thirds.
* This infused gin keeps forever (like a non-infused gin).