Or "Scarol" Soup as Ed calls it. I'm not sure I knew what escarole was until I met Ed's family. If I had it growing up, it was just another "green" in a salad. Escarole is in the same genus as chicory, frisée and endive (which I did enjoy as a child).
This soup is very easy to make, especially if you can find escarole that is already pre-cut. The slightly bitter taste to the greens works well with the beans and tomatoes. Top it with a bit of grated cheese (Pecorino-Romano or Parmesan) and it thickens the soup of nicely. If you have a thick rind from a piece of cheese add it to the soup while you're cooking it to give it a subtle cheese flavor (the rind will melt as the soup cooks).
Vegetarian Option:  You can make this soup vegetarian by using vegetable broth in place of chicken broth.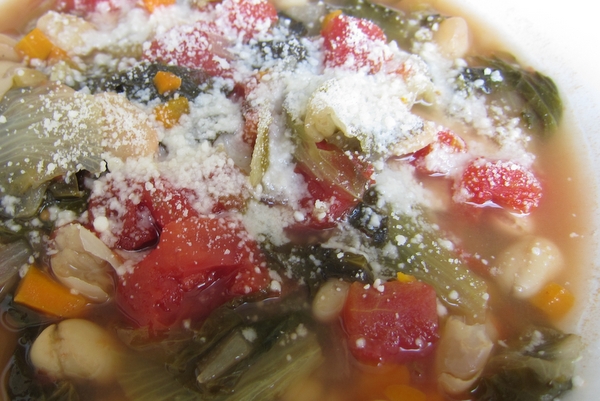 | | | |
| --- | --- | --- |
| Escarole and Cannellini Bean Soup | | Print |
Serves:
Serves 4 (makes about 9 cups)
Ingredients
1 tablespoon olive oil
1 large onion, chopped
1 large carrot, cut into small dice
5 garlic cloves, minced
3 cups (packed) 1-inch pieces escarole (about ½ large head or 3 ounces)
4 cups chicken or vegetable broth
2 15-ounce cans cannellini (white kidney beans), rinsed, drained
1 15-ounce can diced tomatoes (do not drain)
½ teaspoon red pepper flakes
Serve with grated Pecorino-Romano or Parmesan cheese
Instructions
Heat oil in heavy large Dutch over medium heat.
Add onion, carrot and garlic and sauté until onion is golden and tender, about 7 minutes.
Add escarole; stir for 3 minutes.
Add broth, beans, tomatoes and red pepper flakes and bring to boil on high heat.
Reduce heat to medium-low. Cover and simmer until escarole is tender and flavors blend, about 20 minutes.
Season soup to taste with salt and pepper.
Serve with a sprinkle with Pecorino-Romano or Parmesan cheese.
Notes
* Soup freezes well. Let cool and place in freezer-safe containers.
* If you have a cheese rind (from Parmesan cheese or another hard cheese), add it to the soup when you add the broth, beans, etc. It will melt into the soup and give it some extra cheese flavor.