Growing up lima beans were a very unwelcome vegetable in the house. They were my stepfather, Mark J's, least favorite vegetable so we never had them at the dinner table. Both he and my mom grew up with mothers who, let's just say, were not gourmet chefs so I can only assume that the lima beans of their youth came from a can (enough said).
A few years ago I saw fresh lima beans at a local farmers market and decided to give them a try. I am so glad I did because I fell in love with them and realized that these had to be a vast improvement over the ones from Mark's childhood. Then the next summer I searched for them at local farmers markets and discovered there was a shortage that year in our area. Filing that in the back of my mind, now, whenever I see them fresh I have to scoop them up.
Fresh lima beans are the star of this all farmers market succotash. Add to that fresh corn, tomatoes and basil and you have the most wonderful summer vegetable dish. Fresh corn adds a certain amount of creaminess to the dish without adding any dairy. It's a great excuse to make a trip to your local farmers market.
Make a double recipe and freeze half of it. Then bring it out in the winter as a reminder of amazingly flavorful summer vegetables. This dish would be a star at a Thanksgiving meal (it's a staple at Thanksgiving dinner in New England). How's that for planning?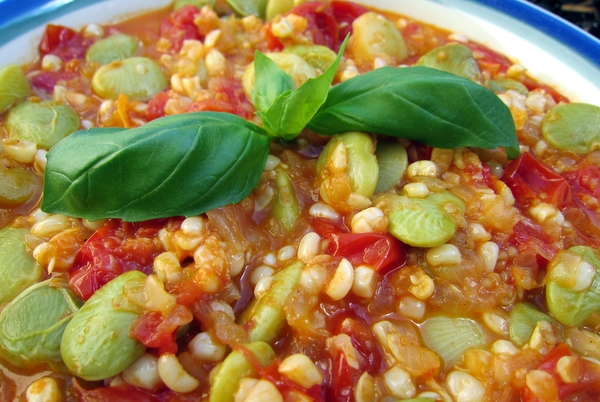 | | | |
| --- | --- | --- |
| Farmers Market Succotash | | Print |
Ingredients
2 tablespoons extra-virgin olive oil
1 large onion, chopped
1 large garlic clove, minced
3 cups chopped grape tomatoes or plum tomatoes (about 1-1/2 pounds)
2-1/4 cups uncooked corn kernels (~ 4 ears of corn)
2 cups fresh lima beans (about 10 to 11 ounces shelled or 2 pounds in pods)
3 tablespoons thinly sliced fresh basil (chiffonade-style)
Instructions
Heat oil in a large pot or frying pan (that you can cover) over medium heat.
Sauté onion until soft and translucent, about 5 minutes.
Add garlic; stir until fragrant, about 1 minute.
Add tomatoes, corn, and lima beans.
Reduce heat to medium-low, cover, and simmer until corn and lima beans are tender and tomatoes are soft, about 20 to 30 minutes, stirring occasionally.
Season to taste with salt and pepper.
Stir in basil just before serving.
Notes
* Can be made 1 day ahead. Let cool, cover and refrigerate. Warm on top of the stove before serving.
* You do not need to cook the corn ahead of time.
* Recipe can be frozen.