I've always loved rice salads and particularly so when they're made with flavorful rices. This one starts with wild rice and brown rice as a base. I used rice from two separate packages but you could use a pre-made mix. Using different rices provides not only more flavor but also more texture. Add to this fava beans, (high in folate and dietary fiber) dried apricots, (high in vitamin A), pistachios (good fat and high in vitamin E) and you have a healthy and filling side dish.
The flavors of the dressing reminded me of a lot of tabbouleh as they both share fresh parsley and citrus juice as main ingredients.
This dish is very versatile as you could easily replace ingredients – swap out fava beans for edamame or dried apricots for dried cherries. Quite possibly you could even turn it into a simple one dish entrée by adding shredded rotisserie chicken or leftover Thanksgiving turkey.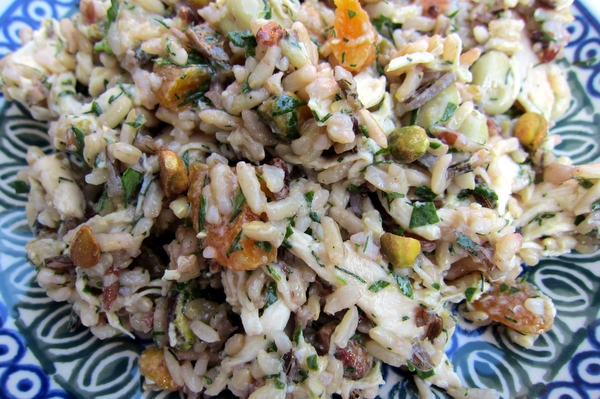 | | | |
| --- | --- | --- |
| Fava Bean, Apricot and Pistachio Rice Salad | | Print |
Recipe type:
Side, Salad, Main Dish
Serves:
6 as side; 4 as main dish
Ingredients
¾ cup wild rice blend
¾ cup brown basmati rice
1 cup fresh shelled fava beans (from about 1 pound pods) or frozen, thawed
1 cup dried apricots, quartered
½ cup unsalted pistachios, roasted
1 small clove of garlic
¾ cup fresh dill (packed)
¾ cup fresh parsley (packed)
juice from 2 lemons (~ 4 tablespoons) and zest from 1 lemon
juice (~ 2 tablespoons) and zest from 1 lime
½ cup extra virgin olive oil
Optional: 3 cups cooked chicken, shredded (from one rotisserie chicken)
Instructions
Using two separate pots cook both the wild rice blend and brown rice according to the packages. If directions are similar you can cook them in the same pot.
If using fresh fava beans, cook in a large saucepan of boiling salted water until tender, about 4 minutes. Drain; transfer to a bowl of ice water. Drain and peel. If using frozen fava beans, cook 2 minutes; transfer to a bowl of ice water, then drain. If using already cooked-packaged beans then remove them from the package.
Chop garlic in a Vitamix, blender or food processor. Add dill, parsley, lemon juice and zest, lime juice and zest, salt and pepper and purée well. Add olive oil in a slow steady stream until dressing is emulsified.
Place both rices a large bowl and toss with a tablespoon of dressing. Let cool.
Add fava beans, apricots, pistachios and shredded chicken (if using).
Add remaining dressing to coat (you may not need all of it).
Season with salt and pepper.
Serve at room temperature.
Notes
* Add chicken to make this an entrée salad.
* I used
Lundberg's Wild Rice Blend
and
Lundberg's Brown Basmati Rice
. Measure before cooking.
* Try
Melissa's Peeled and Steamed Fava Beans
– found in the produce section at Wegmans. You could substitute cooked edamame beans.
* Rice soaks up more dressing than pasta so you may need to add a bit more to ensure that it's not dried out.
* You can make this salad the night before.
* This recipe can easily be cut in half or doubled.
* Fava beans can be cooked and peeled 2 days ahead; cover and chill. Wild and basmati rice can be cooked 2 days ahead; cover and chill. Dressing can be made a few hours in advance.
Source:  Variation on Yotam Ottolenghi's recipe from Bon Appétit, August, 2014