Caponata is a Sicilian dish that dates to the 1700's and is traditionally made with eggplant, celery, capers and vinegar which results in complex sweet and sour flavors.  Here figs and fennel have been substituted for the eggplant to create a nice twist on a classic dish. There are so many good flavors that it's hard for me to decide what I like best. But the fig and fennel combination and the underlying sweetness from the orange juice and zest wins out.
Caponata gets better the longer it sits – you want it to have a bold flavor. I recommend making this at least a day before you plan to serve it. It will keep for a few weeks in the refrigerator. Be sure to bring it to room temperature before serving to maximize the flavors. Serve it with toasted baguette slices for an appetizer or as an accompaniment to fish for a main course.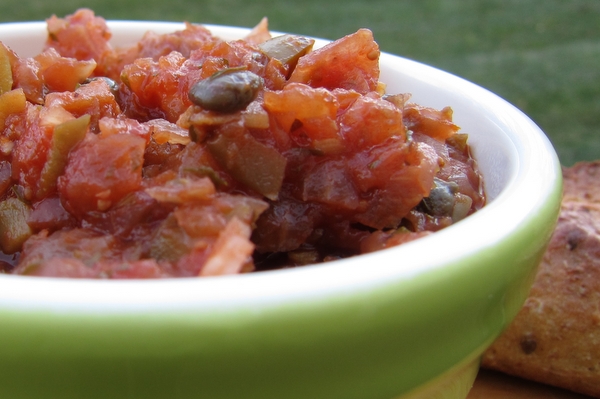 | | | |
| --- | --- | --- |
| Fig and Fennel Caponata | | Print |
Ingredients
3 tablespoons extra virgin olive oil
1 medium-to-large red onion, cut into ½-inch dice (1-1/2 cups)
1 large bulb fennel (fronds, stems and outer layer removed), cored and cut into ½-inch dice (2 cups)
3 cloves garlic, minced
⅓ cup sherry vinegar
1 cup canned crushed tomatoes in puree
12 dried Calmyrna figs, stemmed, then cut into ¼-inch dice
2-1/2 tablespoons light brown sugar, lightly packed
2 tablespoons drained capers
½ cup green olives, pitted and coarsely chopped, such as Cerignola
Finely grated zest and freshly squeezed juice from 1 orange (1 teaspoon zest and ⅓ cup juice)
1-1/2 teaspoons kosher salt, or more to taste
½ teaspoon freshly ground black pepper, or more to taste
3 tablespoons chopped flat-leaf parsley
toasted baguette slices for serving
Instructions
Heat the oil in a medium saute pan over medium heat. Add the onion and fennel, stirring to coat. Cook for 7 to 8 minutes, stirring occasionally, until the vegetables have softened.
Add the garlic and cook for 1 minute.
Stir in the vinegar, tomatoes, figs and brown sugar, stirring to coat everything with the tomatoes.
Stir in the capers, olives, orange zest, salt and pepper.
Increase the heat to medium-high; once the mixture comes to a boil, reduce the heat to medium-low and cook for 8 to 10 minutes or until thickened.
Stir in the orange juice and parsley.
Taste, and adjust the seasoning as needed.
The caponata should have an assertive flavor.
Serve warm or at room temperature with toasted baguette slices.
Notes
* Calmyrna figs are dried and are found in the same section as raisins and other dried fruits.
* To toast baguette slices: slice baguette at an angle and place pieces directly on an oven rack (it may be easier to remove the rack from the oven to do this). Bake at 425°F for 5-6 minutes until crispy. Let cool.
Source:  Adapted from Ina Garten's Barefoot Contessa Foolproof (2012)