I recently hosted a farmers market themed Gourmet Dinner Club (GDC). I asked that everyone bring something that contained at least one ingredient from a local farmers market (emphasis on "local").
The creativity was great and included an onion-garlic dip, chunky eggplant-tomato sauce served atop polenta, salad with local apples and apple crisp with homemade vanilla bean custard. Garlic, herbs, eggplants and apples all came from the local area. My favorite adventure was Moira B asking her husband to take their youngest child apple picking so he could come bring home some apples for her salad. A real team effort.
I made a recipe that we first had last fall while visiting my Aunt Susie M and Uncle Christopher M up in Connecticut. It was the perfect match for one of our first chilly nights. The star of the dish was a mild lamb and garlic sausage from Canter Hill Farm in Malvern, PA – just five miles from my house (hard to get more local). However I picked it up at their stand at the Growing Roots' Malvern Farmers Market. While I love lamb I know that others don't always feel the same way. Happily everyone agreed that this lamb was wonderful and not too strong or gamey.
Add to the sausage fennel in three different forms – chopped fennel and fennel fronds (both from a bulb) along with fennel seeds. It sounds like a lot of fennel but it works well with the lamb and other ingredients. Deb B described the whole dish as having "wonderful layers of flavor" and this is coming from someone who isn't a huge lamb or fennel fan. You can substitute pork sausage (Canter Hill Farm has it, too) but don't skimp on the fennel. I promise it wall works and doesn't taste like a black jelly bean (a favorite in my family).
I couldn't resist adding some herbs from my garden (or "farm") – thyme in the main dish, lemon verbena to flavor the drinking water, and rosemary and lavender to accompany the roses on the dining room table.
Thank you to Kristie A for the inspiration. I ran into her a few weeks ago while shopping at the farmers market – she was preparing for her quarterly couples gourmet dinner group and their theme was "farmers market."
Gluten-Free/Wheat-Free Note:  Lentils are naturally gluten-free but depending on where they're processed there could be cross contamination.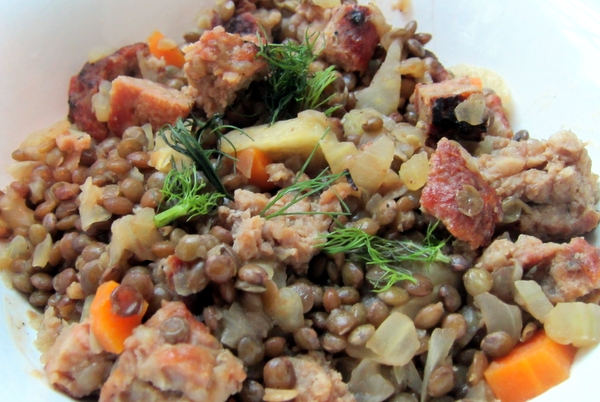 | | | |
| --- | --- | --- |
| French Lentils with Sausage and Fennel | | Print |
Ingredients
1 cup (7 ounces) dried French green lentils
4-1/2 cups water
1-1/2 pounds mild sausage (pork or lamb), casings removed
2 tablespoons olive oil
1 large (3/4-pound) fennel bulb (sometimes called "anise"), stalks discarded, reserving fronds and chopped into ¼-inch pieces
1 medium onion, finely chopped
2 carrots, diced
2 cloves garlic, minced
1 tablespoon fennel seeds
1 tablespoon chopped fresh thyme
3 tablespoons chopped fresh flat-leaf parsley
2 tablespoon chopped fennel fronds, divided
1-1/2 tablespoons red-wine vinegar (or more to taste)
Salt and freshly ground pepper
Instructions
Bring lentils, water and ½ teaspoon salt to a boil on high heat in a 2-quart heavy covered saucepan. Once boiled, partially cover and reduce heat to medium-low and simmer until lentils are just tender but not falling apart, about 30 minutes. Drain cooked lentils in a sieve set over a bowl and reserve cooking water.
While the lentils are cooking, use a 5-quart (or larger) pot or Dutch oven with a cover to cook sausage and vegetables.
Cook sausage over medium-high heat breaking it up with a wooden spoon into large chunks. Cook until no longer pink, about 12 to 15 minutes. Transfer to a plate. Keep about 2 tablespoons of the sausage fat – drain the rest if there's more.
Add olive oil to sausage fat to coat pot. Add fennel, onion, carrots, garlic, fennel seeds and thyme to pot and toss to coat. Cover pan and cook over medium-high heat for about 15 to 20 minutes until vegetables are very tender, stirring occasionally (adjust heat if vegetables are sticking).
Stir sausage and lentils into vegetables with enough cooking water to moisten (1/4 to ½ cup) and cook over moderate heat until heated through, about 2 minutes.
Stir in parsley, salt and pepper, red wine vinegar and 1 tablespoon fennel fronds. Add more salt and/or vinegar to taste.
Sprinkle remaining 1 tablespoon fennel fronds before serving.
Notes
* I like to use a mild garlic lamb sausage but any mild sausage will do (such as Italian pork).
* You could cook the sausage whole in the pot or on the grill and slice if you prefer.
* If the lentils finish cooking before you're ready to add them to the sausage-vegetable mixture, don't worry as you'll have a chance to heat them up.
* You could drain all of the sausage fat and use all olive oil.
Source:  Variation on recipe from Gourmet, January, 2007