A little bit of the tropics captured in a yummy muffin. I adapted a banana bread recipe I'd made for many years to make it gluten-free. While doing so I decided to add some new ingredients including almonds and coconut. I used a mixture of Cup4Cup gluten-free flour and almond flour, but you can use all-purpose flour in place of the gluten-free flour, too.
I made these in advance and froze them to bring to my cousin Katie H's for breakfast after spending the night. They were well received by the adults but my biggest fan was Katie's youngest daughter, Olivia H, who just turned one – she couldn't get enough muffin bites. We certainly enjoyed a taste of the tropics that morning as we were in the midst of an ice storm.
I was really glad that I made these as muffins (instead of as a loaf) as I was able to eat one fresh from the oven – so good! I quickly wrapped up the rest and put them in the freezer.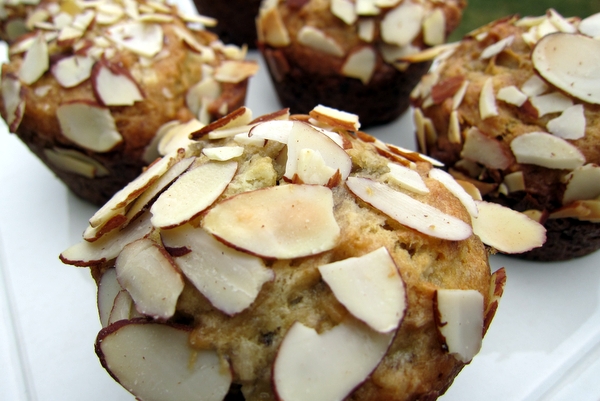 | | | |
| --- | --- | --- |
| Gluten-Free Banana-Almond-Coconut Muffins | | Print |
Serves:
Makes 15 to 18 muffins
Ingredients
½ cup (1 stick) unsalted butter, at room temperature
¾ cup sugar
2 eggs
1-3/4 cup gluten-free flour (such as Cup4Cup)
¾ cup almond flour
1 teaspoon baking soda
½ teaspoon salt
3 large, ripe bananas, mashed
1 cup finely shredded unsweetened coconut
1 teaspoon vanilla extract
½ cup sliced almonds
Instructions
Preheat oven to 350°F.
Grease two muffin tins – you'll need 15 to 18 cups (or use paper muffin cups).
Cream butter and sugar until light and fluffy.
Add eggs one at a time, beating well after each addition.
Mix gluten-free flour, almond flour, baking soda and salt in a separate bowl. Add to creamed mixture, mixing well.
Fold in mashed bananas, coconut and vanilla.
Pour mixture into muffin cups – about three quarters full. Sprinkle with sliced almonds.
Bake for 22 to 26 minutes, or until a cake tester inserted in the center of a muffin comes out clean.
Cool in pan for 10 minutes, then on rack.