I cannot get enough blackberries this summer and have been stocking up on them weekly. I look forward to my Saturday morning excursion to the Malvern (PA) Farmers Market. One of my regular stops is the Old Homestead Farm stand (from Ronks, PA) for lots of goodies including their luscious and plump blackberries. I'm partial to the harvests from Lancaster County, PA.
I've been putting them in smoothies, in yogurt with a bit of honey and atop vanilla ice cream. Last week's Riegl Sunday Cocktail featured them muddled in a delightful Blackberry Gin and Tonic.
Knowing that the summer growing season is (sadly) coming to an end I wanted to make something with these tasty treats that I could freeze. It's my way of preserving the fruits of the summer.
I decided to adapt a favorite blueberry muffin recipe from Magnolia Bakery in New York City. I started off with gluten-free flour (Cup4Cup multipurpose flour is my go-to) and added some fresh lavender from my garden along with the zest of one lemon. Using gluten-free flour makes the batter to be a bit more sticky than traditional flour so you'll need to be careful when folding in the blackberries. Don't worry if some break – it adds a bit more color (which I love) to the muffins.
Try serving these muffins warm with a bit of honey. No matter what time of year it will remind you of summer.
No need for gluten-free muffins? Just substitute the same amount of all-purpose flour.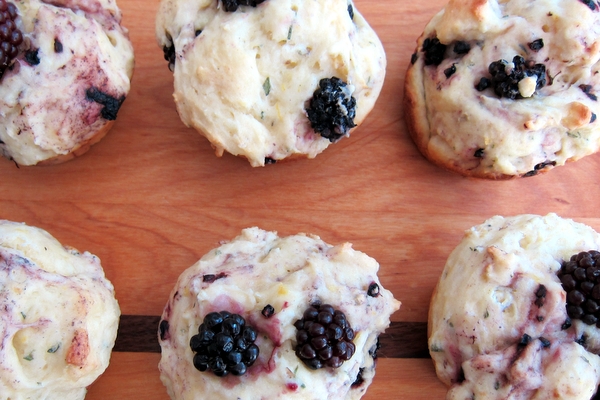 | | | |
| --- | --- | --- |
| Gluten-Free Blackberry-Lavender Muffins | | Print |
Ingredients
3 cups gluten-free flour or unbleached all-purpose flour
¾ cup sugar
4-1/2 teaspoons baking powder
¾ teaspoon salt
2 tablespoons chopped fresh lavender
2 large eggs, beaten
1-1/2 cups buttermilk (see note)
6 tablespoons (3/4 of a stick) unsalted butter, melted and cooled
Zest from 1 lemon
1-1/2 teaspoon vanilla extract
1-1/2 cup fresh blackberries
Instructions
Preheat oven to 350°F. Grease muffin pans. Recipe will make between 18 and 20 muffins.
In a large bowl, mix together flour, sugar, baking powder, salt and lavender.
Make a well in the center.
Stir in eggs, buttermilk, butter, lemon zest and vanilla extract, being careful not to over mix.
Gently fold in blackberries into the batter – it's okay if a few break up. Batter will be "sticky."
Fill the muffin cups about three-quarters full.
Bake for 20 - 22 minutes until lightly golden and a cake tester inserted into center of muffin comes out with moist crumbs attached. Do not over bake.
Notes
* Recipe works well with gluten-free flour (such as
Cup4Cup Multipurpose Flour
) or all-purpose flour.
* I recommend using
SACO Cultured Buttermilk Blend
in place of fresh buttermilk. You'll find it in the baking section of your grocery store. Follow directions on the container for use. It keeps for a few years refrigerated so you always have buttermilk on hand.
* Don't have fresh berries? Use frozen ones straight from the freezer instead – no need to defrost them.
* Can't find blackberries? Use the same amount of blueberries.
Source:  Variation of a recipe from The Magnolia Bakery Cookbook: Old-Fashioned Recipes from New York's Sweetest Bakery  (1999)