I want to share with you the secret to making the best blueberry cobbler. But before I do… This recipe is based on another tried and true Blueberry Cobbler recipe that I have been making for many, many years. It's stood the test of time particularly because it's so adaptable. It started out with regular all-purpose flour, moved onto white whole wheat flour and most recently I've made it quite successfully with gluten-free flour.
Recently I set out to make the gluten-free version. While I was preparing it I was thinking about all the fresh herbs I had growing on my deck and was thinking that adding one of them might make a nice twist. Thyme? No. Rosemary? No. Lavender? Yes! Lavender is the secret ingredient – it turns a good blueberry cobbler into an amazingly great blueberry cobbler. It's subtle but you can tell it's there. Somehow it makes the blueberries even more bright and flavorful and allows the lemon and cinnamon to shine, too.
I used Cup4Cup gluten-free flour for this cobbler. It works perfectly – the crust is just the right consistency to sop up the yummy blueberries and their juices. It doesn't spread as easily as regular flour so when placing it atop the blueberry mixture try to spread it out as best as you can. Cobblers are meant to have a rustic feel to them so it doesn't have to cover the entire dish. All-purpose flour or white whole wheat flour can easily be substituted at a 1:1 ratio. Any flour will do, just don't skip the lavender.  Or the scoop of vanilla ice cream.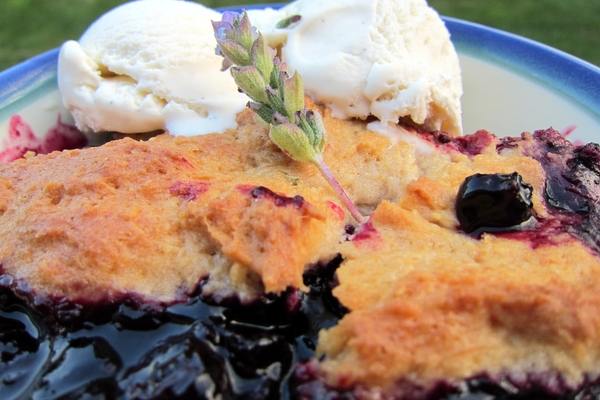 | | | |
| --- | --- | --- |
| Gluten-Free Blueberry and Lavender Cobbler | | Print |
Ingredients
5 cups blueberries (fresh or frozen – not thawed) - about 28 ounces
¾ cup sugar
2 tablespoons fresh lemon juice
1 tablespoon lemon zest
1 tablespoon finely chopped fresh lavender
1 tablespoon cornstarch
1-1/2 cups gluten-free flour (such as Cup4Cup)
1-1/2 teaspoons baking powder
½ teaspoon cinnamon
½ teaspoon salt
9 tablespoons unsalted butter, cold
6 tablespoons sugar
1-1/2 teaspoons vanilla
¾ cup half and half
For serving: vanilla ice cream or freshly whipped cream
Instructions
Preheat oven to 375 °F. Butter a 9-inch square pan.
In a large bowl toss together berries, ¾ cup sugar, lemon juice, zest, lavender and cornstarch until combined well and transfer to a baking dish or pan, spreading evenly.
Sift together flour, baking powder, cinnamon and salt.
Cut butter into pieces and in a food processor pulse with flour mixture and remaining 6 tablespoons sugar until mixture resembles coarse meal.
Add vanilla and half-and-half and pulse until a dough just forms. (This happens almost immediately.)
Spoon dough in mounds over berry mixture. Cover the mixture as best as possible as the gluten-free flour doesn't spread as easily
Bake in middle of oven until topping is golden and cooked through, about 40 to 45 minutes.
Serve immediately or at room temperature.
Notes
* I used
Cup4Cup
gluten-free flour ("original flour blend").
* Not looking for a gluten-free dessert? Substitute regular all-purpose flour 1:1 for the gluten-free flour