I was recently Facetiming (I guess this is a verb?) with my niece, Mia K (age 11) and as so often in our family the conversation drifted towards food. I described something I had cooked that day and Mia said "Oh, that sounds like it has nice texture." I remarked that she should write a food blog with such descriptive language. When I was thinking about these muffins I was reminded of what Mia had said as it is a perfect description for them. Given the combination of almond meal/flour (which is just pulverized almonds) and medium grind cornmeal the muffins do have a good texture – coarse rather than smooth.
There are so many good flavors going on it's hard to know where to start. It was my first time using butternut squash in muffins. I find it to have a more subtle flavor than pumpkin (which could be a used as a substitute) that paired well with the sage. I used butternut squash from a can (for ease) but you can make it from scratch.
Cooking the sage in brown butter made for wonderful cooking smells. There's something about browning the butter that makes it even better and part of it is the smell – think toasted hazelnuts with some sage thrown in.  
While none of the ingredients contain gluten naturally make sure you're using "gluten-free" versions (such as the cornmeal) as there may be some cross contamination.
These muffins are great with chili – I served them with both Chicken Cashew Chili and Beef, Ancho and Chocolate Chili. 
Holiday Tip: These would be a great addition to a Thanksgiving meal. You can make them ahead of time and freeze them. Just pop them in the oven for 10 minutes to warm them up. Perfect for both your gluten-free and gluten-loving family and friends.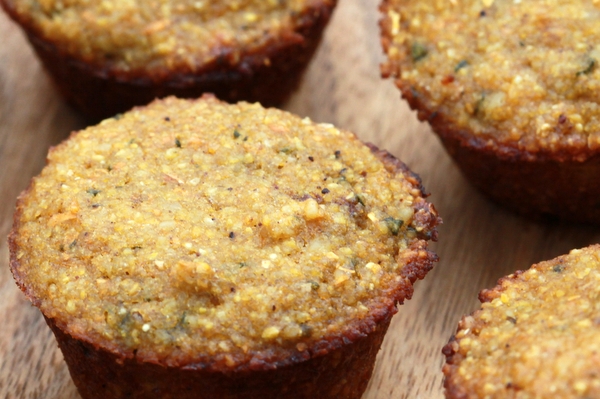 | | | |
| --- | --- | --- |
| Gluten-Free Butternut Squash and Sage Brown Butter Corn Mini-Muffins | | Print |
Ingredients
1-1/2 cups almond meal/flour
1-1/2 cups medium grind cornmeal
2 teaspoons baking powder
1 teaspoon baking soda
1 teaspoon salt
½ teaspoon ground cinnamon
¼ teaspoon ground nutmeg
pinch of ground cloves
½ cup (1 stick) unsalted butter, cut into pieces
½ cup fresh sage, chopped
½ cup maple syrup
¾ cup buttermilk
3 eggs
1-1/2 cups roasted butternut squash purée
Instructions
Preheat oven to 350°F.
Grease four mini-muffin pans (total of 48 muffins).
In a medium bowl, combine almond meal, cornmeal, baking powder, baking soda, salt, cinnamon, nutmeg and cloves. Set aside.
In a medium saucepan, melt butter over medium-low heat. Add sage and cook about 5-8 minutes until the butter turns a golden brown (the white solids will turn brown). Remove from heat allow to cool for a few minutes.
In a large bowl, whisk together maple syrup, buttermilk, eggs, and butternut squash purée. Add brown butter and sage mixture to butternut squash mixture and whisk until incorporated.
Slowly whisk in the flour mixture.
Fill each muffin cup almost to the top with batter. Bake for 15 to 17 minutes or until sides and tops of muffins start to turn golden brown. Allow muffins to cool for ten minutes in the muffin tray and then transfer to a wire rack and allow to cool the rest of the way.
Notes
Notes:
* I used
Bob's Red Mill gluten-free medium grind cornmeal
,
Bob's Red Mill finely ground almond meal/flour
and
Farmer's Market Organic Butternut Squash
(already puréed).
* I recommend using
SACO Cultured Buttermilk Blend
in place of fresh buttermilk. You'll find it in the baking section of your grocery store. Follow directions on the container for use. It keeps for a few years refrigerated so you always have buttermilk on hand.
* Instead of using a hand whisk you could use a stand mixer with the whisk attachment. I prefer this as it's less strain on my hands.
* Variations: makes about 18 regular muffins. Fill each muffin cup ¾ of the way up. Back for 20 to 23 minutes.
* If making your own butternut squash purée, 1 medium butternut squash should yield about 1-1/2 cups puree.
* You could substitute pumpkin purée for butternut squash purée.
* Freezes well.
Source:  Adapted from Salted Plains