There are many names for this confection – Magic Bars, Hello Dolly Bars or Seven Layer Bars. What they all have in common is some sort of ground-up cookie, chocolate chips, sweetened shredded coconut and condensed milk. This version is possibly the easiest to make as all of the ingredients (except the condensed milk) are combined in a bowl and transferred to a baking dish. So there's no making the cookie layer and then adding the nuts, chocolate chips, coconut, etc. that you find in other versions. Be sure to cook these long enough and let them sit overnight as they will be much easier to cut.
I'd love to say that no animals "died" in the making of these bars but I am unable (don't worry – they were animal crackers). When I went looking for gluten-free graham crackers I came across Kinnikinnick Foods Company's Gluten-Free Graham Style KinniKritter Animal Cookies and decided to use some of these in addition to their Gluten-Free S'moreables Graham Style Crackers since the ingredients were identical – the only difference was the form of the cookie. The animal crackers (elephants, pigs, bison, camels, rams and horses) were tasty on their own and were a great addition to these magic bars.
I served these at a "Super Hero" summer BBQ at my office and called them "Wonder Women Magic Bars" in keeping with the theme. They were a huge hit and people were surprised to learn that they were gluten-free. You could easily substitute the same quantity of regular graham crackers and achieve the same tastiness.
Check out Riegl Palate's recipe for Bunco Bars which is a variation of this recipe using traditional graham crackers and other yummy ingredients.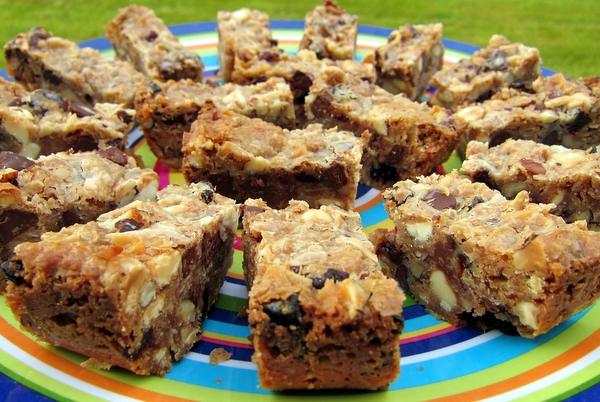 | | | |
| --- | --- | --- |
| Gluten-Free Chocolate-Hazelnut-Cherry Magic Bars | | Print |
Ingredients
2 cups gluten-free graham cracker crumbs (about 10 ounces)
2 cups coarsely chopped hazelnuts
2 cups sweetened shredded coconut (about 7 ounces)
1 cup semisweet chocolate chips
1 cup white chocolate chips
1 cup dried cherries, chopped in half
¾ cup (1-1/2 sticks) unsalted butter, melted
One 14-ounce can sweetened condensed milk
Instructions
Preheat oven to 325°F.
Lightly grease a 13x9x2-inch baking pan.
Mix together all the ingredients except the sweetened condensed milk in a large bowl.
Transfer the mixture to the prepared pan and pat down evenly with your hands.
Pour the sweetened condensed milk over the top to cover. Use a spatula to ensure that it's spread evenly.
Bake for 30-35 minutes, or until lightly golden. Do not under cook or they will likely crumble when cut.
Cool to room temperature, cover tightly with plastic wrap, and allow to set overnight before cutting and serving.
Notes
* You can use 2 cups (10 ounces) of regular graham crackers in place of the gluten-free graham crackers.
* Grind the graham crackers in a Vitamix, blender or food processor.
* I recommend using Kinnikinnick Foods Company's Gluten-Free Graham Style KinniKritter Animal Cookies or Gluten-Free S'moreables Graham Style Crackers – they have the same ingredients, just take different shapes.
* I like to cut each dried cherry in half as they tend to be a bit too large for a cookie or a bar.
Source:  Variation of a recipe from More from Magnolia (2004)