This is a recipe that I have made for years using regular all-purpose flour. I thought that it would hold up well using gluten-free flour so I tried it with Cup4Cup gluten-free flour (created by Lena Kwak, a chef at Thomas Keller's French Laundry Restaurant in Napa, CA).
I was very pleased with the end result. The bread rose to the same height that it would with regular flour and the consistency was much the same. Most importantly it tasted great. This bread is chock full of yummy dates (which are a good source of dietary fiber) and walnuts. Plus you get a little taste of the rum – it's just the right amount. Spread some cream cheese on this bread to finish it off.
Don't need to make it gluten-free? Just use the same amount of regular flour – no other changes are needed. It also freezes well so you can make it ahead of time.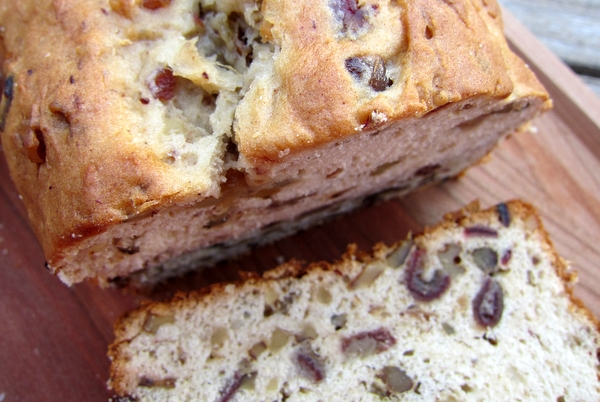 | | | |
| --- | --- | --- |
| Gluten-Free Date Nut Bread | | Print |
Ingredients
4 tablespoons (1/2 stick) unsalted butter, cut into 6 chunks
1 cup pitted dates, coarsely chopped
¼ cup brown sugar
¼ cup white sugar
¾ cup boiling water
1 egg, beaten
2 cups Cup4Cup gluten-free flour or all-purpose flour
2 teaspoons baking powder
½ teaspoon salt
½ cup walnuts, coarsely chopped
½ teaspoon vanilla extract
1-1/2 tablespoons rum
Instructions
Preheat oven to 350°F.
Grease a loaf pan.
Place butter in a large mixing bowl, place dates on top and pour both sugars over. Pour boiling water over ingredients in the bowl. Let sit for 7 minutes. Stir well.
When mixture is cool, add egg and mix well.
Combine flour, baking powder and salt together in a separate bowl.
Add to date mixture, beating for 30 seconds.
Stir in walnuts, vanilla and rum.
Pour into prepared pan.
Bake until a toothpick inserted into the center of the bread comes out clean, about 45 to 50 minutes.
Cool bread in the pan on a rack for 10 minutes. Remove from pan and place on rack until cooled.
Notes
* Freezes well.
* Recipe can be doubled or tripled.
* If you use
Cup4Cup
gluten-free flour this bread is both gluten-free and wheat-free.