Is it a muffin or a cupcake? Apparently this question is more debated than I thought. The general consensus is that a cupcake is more delicate and lighter in texture while a muffin is more dense. Or it could be what meal at which you chose to serve it. A cupcake may masquerade as a muffin when served at breakfast. Frosting may not always delineate the two but you're more likely to find thick frosting (rather than a drizzle or glaze) on a cupcake rather than a muffin.
These yummy treats are more muffin than cupcake but if you were to add some frosting to them you could absolutely get away with telling people they are cupcakes mostly because they pack a lot of chocolate punch (cocoa and chocolate chips). The addition of a bit of instant coffee or espresso intensifies the chocolate flavor without adding a coffee flavor. The zucchini is masked – it adds moisture (as does the addition of yogurt) but you can't taste it nor does it change the texture. I served these to our niece, Atlee T (age 6) and nephew, Shep T (age 2-1/2) and both loved them. Between us I did call them chocolate muffins so they were not "distracted" by the zucchini!
I made these gluten-free (and wheat-free) by using Cup4Cup gluten-free flour. We agreed that you would be hard pressed to know that they were gluten-free. You can easily substitute all-purpose flour in place of the gluten-free flour.
Why does this recipe call for natural and not Dutch-processed cocoa powder? The acid in natural unsweetened cocoa powder helps to activate the baking soda which is a leavening agent.  In the case of the Dutch-processed cocoa powder the acid has been removed. Both types of unsweetened cocoa powder are good they just serve different purposes. Check out the Joy of Baking's Baking 101:  Natural vs. Dutch-Processed Cocoa Powder for an excellent primer on the subject.  Scharffen Berger (my favorite), Ghirardelli and Hershey's are examples of natural cocoa powder which is more widely available than Dutch-processed. Droste is an example of a Dutch-processed cocoa.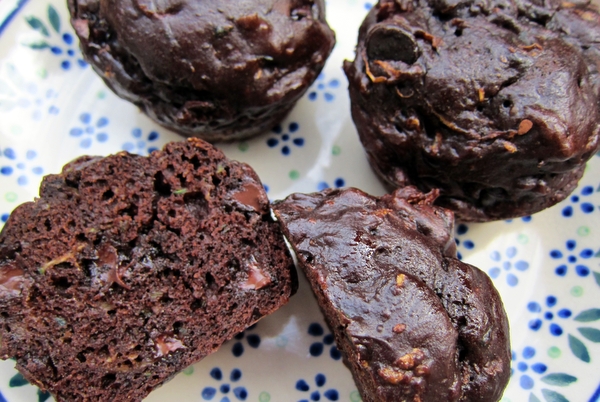 | | | |
| --- | --- | --- |
| Gluten-Free Double Chocolate Zucchini Muffins | | Print |
Ingredients
1-1/2 cups shredded zucchini (~ 2-1/2 medium zucchinis)
1 cup gluten-free flour (such as Cup4Cup)
½ cup unsweetened natural cocoa powder (not Dutch-processed)
¾ teaspoon baking soda
¼ teaspoon baking powder
¼ teaspoon salt
½ teaspoon instant coffee powder (or ¼ teaspoon espresso powder)
¾ cup semi-sweet chips
2 large eggs
¼ cup canola oil
¼ cup nonfat plain Greek yogurt
½ cup sugar
1 teaspoon vanilla
Instructions
Adjust the oven rack to the lower third position and preheat oven to 425°F. Spray a 12-count muffin pan with nonstick spray or line with cupcake liners.
Using a box grater or a food processor shred the zucchini. Place shredded zucchini on a couple paper towels to absorb some (but not all) moisture. Press a paper towel on top as well.
In a large bowl, whisk flour, cocoa powder, baking soda, baking powder, salt, instant coffee and chocolate chips together until combined.
In a medium bowl, whisk eggs, oil, yogurt, sugar and vanilla together until combined.
Add wet ingredients to dry ingredients and lightly whisk until combined. Using a rubber spatula or wooden spoon, fold in the zucchini.
Spoon batter into prepared muffin pan filling each cupcake liner to the top with batter.
Bake for 5 minutes at 425°F. Lower temperature to 350°F and continue to bake muffins for 12 to 15 minutes longer or until a toothpick inserted in the center comes out clean.
Allow muffins to cool completely in the pan set on a wire rack.
Notes
* I used
Cup4Cup
gluten-free flour ("original flour blend").
* Not looking for a gluten-free dessert? Substitute regular all-purpose flour 1:1 for the gluten-free flour
* Muffins freeze well. Make ahead and store for a few months in the freezer.
* Instead of muffins you can bake this in a loaf pan at 350°F for 45 to 55 minutes.
Adapted from Sally's Baking Addiction