My paternal grandmother used to love to bake, especially during the holidays. I have fond memories of receiving a box of her baked goods each Christmas mailed to me from Florida. There were always brownies, Springerle cookies (I plan to attempt these at later date) and gingerbread men. I especially loved to eat the gingerbread men plus they looked festive on our tree. It's not surprising that I liked them as my grandmother, father and I all love ginger.
Christmas makes me think of ginger but I prefer to get my ginger fix in the form of gingerbread  cake (skipping the "men" stage). This is a recipe that I've been making for years – but this time around I made two changes. I substituted gluten-free flour for all-purpose flour and, I decided it needed more ginger so I added some chopped crystallized ginger. I'm pleased to report both changes were well received by our guests, Ed and me.
My suspicions were confirmed that it was a good recipe when I was at a dinner party a week or so later and Kristie A brought the original recipe.
Holiday Tip:  You can make this ahead of time and freeze it. Defrost the morning you're going to serve it. It's also easy to whip up a batch at the last minute as you don't even need a mixer to make it.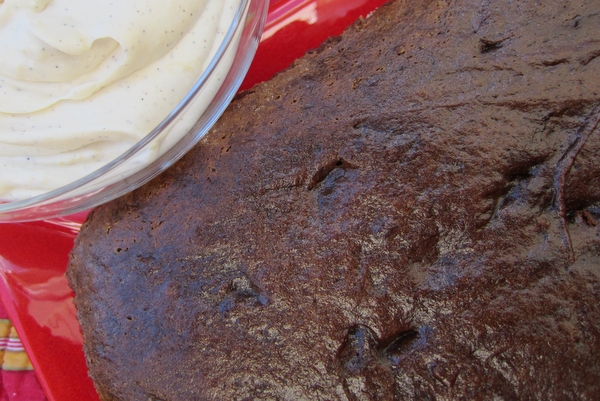 | | | |
| --- | --- | --- |
| Gluten-Free Gingerbread | | Print |
Ingredients
1-2/3 cups Cup4Cup gluten-free flour or all-purpose flour
1-1/4 teaspoons baking soda
1-1/2 teaspoons ground ginger
¾ teaspoon cinnamon
¾ teaspoon salt
1 egg, lightly beaten
½ cup sugar
½ cup molasses
⅔ cup chopped crystallized ginger
½ cup boiling water
½ cup canola or vegetable oil
Instructions
Preheat oven to 350°F. Grease and flour a 9-inch square baking dish.
Sift flour, baking soda, ground ginger, cinnamon and salt together in a bowl.
Add egg, sugar, molasses and crystallized ginger and mix well with a wooden spoon.
Pour boiling water and canola or vegetable oil over the mixture. Stir thoroughly until smooth.
Pour batter into the prepared pan. Bake on the middle rack for 35 to 40 minutes or until the top springs back when touched and the edges haven pulled away slightly from the sides of the pan.
Cool in pan on a rack.
Mix zest of lemon into whipped cream or vanilla crème fraîche before serving.
Notes
* Instead of serving with whipped cream or crème fraîche, you can make a lemon glaze. Sift ⅔ cup powdered sugar into a bowl and add 3 tablespoons freshly squeezed lemon juice. Mix well. Pour over gingerbread as soon as it comes out of the oven. Cool in pan.
* To ensure cake is gluten-free/wheat-free, dust the pan with
Cup4Cup
gluten-free flour (or other gluten-free flour).
* Cake can be made using 1-2/3 cups of regular all-purpose flour instead of gluten-free flour.
* Crystallized ginger can be omitted but it will not be as flavorful. If you do use it, chill it first in the refrigerator for 60 minutes or so as it's easier to chop.
* Cake freezes well – wrap tightly and freeze for up to three months.
Source:  Adapted from Julee Rosso and Shelia Lukins' The Silver Palate Cookbook (1982)