It's rare that I see a cake in a mainstream magazine like Bon Appétit that is intended to be gluten-free, so of course I had to make it! The cake is made up of so many wonderful spices and is then topped with a not-too-coconutty-lemon frosting. I used my favorite Cup4Cup multipurpose gluten-free flour which worked perfectly.
Make sure you use your best spices since they are the star of this cake – you'll need cinnamon, ginger and nutmeg. Freshly ground nutmeg is key and is easily achieved by using a microplane grater on a fresh piece of nutmeg.
The frosting is a combination of lots of wonderful ingredients including cream cheese, butter, lemon zest, vanilla and unsweetened coconut milk. The goal is to frost the top and some of the sides – so it's not supposed to look perfect. My kind of frosted cake.
While this cake can be made at any time of the year it's perfect for the summer as the white surface shows off lots of fresh things (think of it as an open canvas) such as edible flowers like lavender buds or pansies. The original recipe called for bee pollen so Ed and I went on a hunt for it (I love a good food adventure). We found it at Kimberton Whole Foods which is a small local SE Pennsylvania chain – not to be confused with the national Whole Foods chain. When I inquired as to where to locate it in the store I was given two choices – the frozen section or the health supplement section. Go for the frozen section as it doesn't stay fresh for very long. Bee pollen is said to be a superfood most known for helping with seasonal allergies. Since I only need a teaspoon or two to top the cake I used the rest in my morning protein drinks.
Don't have a need to make this gluten-free? No worries, just substitute regular all-purpose flour for gluten-free flour. The great thing about this cake is that it will please your audience whether it's gluten-free or not.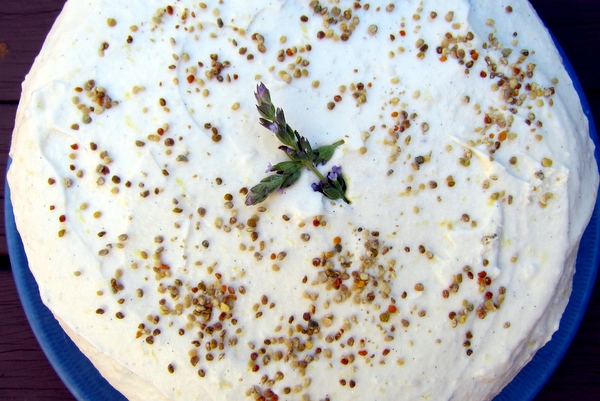 | | | |
| --- | --- | --- |
| Gluten-Free Honey Spice Cake | | Print |
Ingredients
Nonstick vegetable oil spray
2 cups gluten-free all-purpose baking flour
1-1/2 teaspoons baking powder
½ teaspoon baking soda
½ teaspoon kosher salt
1½ teaspoons ground cinnamon
½ teaspoon ground ginger
⅛ teaspoon freshly grated nutmeg
⅔ cup white sugar
¼ cup (packed) light brown sugar
½ cup canola oil
½ cup honey
1 large egg
1 large egg yolk
½ vanilla bean, split lengthwise
½ cup fresh orange juice
½ cup buttermilk
3 ounces cream cheese, room temperature
3 tablespoons unsalted butter, room temperature
1 cup powdered sugar
1 teaspoon finely grated lemon zest
Pinch of kosher salt
½ vanilla bean, split lengthwise
1 (13.5-ounce) can unsweetened coconut milk, cream separated from milk, room temperature
Bee pollen, fennel fronds, edible flowers, and berries (for serving; optional)
Instructions
For Cake:
Preheat oven to 350°F.
Coat a 9-inch cake pan with nonstick spray and line bottom with a parchment paper round.
Whisk flour, baking powder, baking soda, salt, cinnamon, ginger and nutmeg in a large bowl to combine.
In a stand mixer bowl (or bowl with hand mixer) combine white sugar, brown sugar, oil, honey, egg and egg yolk. Scrape in seeds from vanilla bean; discard pod. On medium speed, beat mixture until pale and thickened, about 4 minutes. Reduce speed to medium-low and gradually pour in orange juice and buttermilk. Beat until frothy, about 2 minutes. Reduce speed to low and gradually add dry ingredients; beat just until smooth and mixed (it will be thin, like pancake batter).
Pour into prepared pan and bake until cake is golden brown and center springs back when gently pressed (a cake tester will not come out clean), about 45 to 55 minutes.
Transfer to a wire rack and let cool in pan, 20 minutes. Run a knife around edges of cake to loosen and invert onto rack; let cool completely.
For Frosting and Assembly:
Using a stand mixer (or bowl with hand mixer) on medium-high speed, beat cream cheese and butter until smooth. Add powdered sugar, lemon zest, and salt and scrape in seeds from vanilla bean; discard pod. Beat on low speed until mixture is very light and thickened, about 2 minutes; scrape down sides of bowl. With motor running, add coconut cream by the tablespoonful and beat until very soft peaks form (save coconut milk for another use).
Pile frosting on top of cake and spread to edges (it's okay if it cascades over the sides).
Decorate with bee pollen, fresh flowers and/or fresh berries.
Notes
* I highly recommend
Cup4Cup multipurpose gluten-free flour
.
* Measure the canola in a liquid measuring cup and use the same cup to measure the honey – the honey will slide out easier.
* I recommend using
SACO Cultured Buttermilk Blend
in place of fresh buttermilk. You'll find it in the baking section of your grocery store. Follow directions on the container for use. It keeps for a few years refrigerated so you always have buttermilk on hand.
* I used about ¾ of a cup (12 tablespoons) of coconut milk.
* Cake can be baked 3 days ahead. Store tightly wrapped at room temperature.
Source:  Variation on recipe from Bon Appétit, September, 2015