It's likely that this time of year your garden may have a plethora of zucchini. Why not make up some yummy zucchini bread – maybe even double the recipe so you can freeze some for the winter months? The zucchini makes this bread so unbelievably moist and makes a great partner to the walnuts and spices.
This is another recipe that I have made many times with regular all-purpose flour. I thought that it would work well using gluten-free flour so I tried it with Cup4Cup (created by Lena Kwak, a chef at Thomas Keller's French Laundry Restaurant in Napa, CA) and I was not disappointed. I had many tasters as I brought a loaf to work and also one on a family visit – everyone loved it but the best line was from my cousin, Rogan C, who exclaimed that it was the best gluten-free food he'd ever had. I find it to be filling, too, which isn't always the case for quick breads or muffins.
If I didn't tell you it was gluten-free you'd be hard pressed to know.  And, this recipe works just as well with regular all-purpose flour.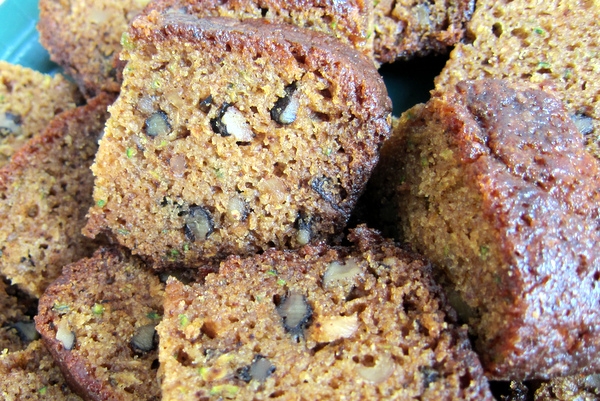 | | | |
| --- | --- | --- |
| Gluten-Free Zucchini Bread | | Print |
Serves:
Makes 1 generous loaf
Ingredients
2 cups grated unpeeled raw zucchini (about 1-1/2)
2 eggs
1-1/4 cups vegetable oil
1-1/2 cups sugar
1 teaspoon vanilla extract
2 cups Cup4Cup gluten-free flour or all-purpose flour
2 teaspoons baking soda
1 teaspoon baking powder
1 teaspoon salt
1 teaspoon ground cinnamon
1 teaspoon ground cloves
1 cup shelled walnuts, chopped
Instructions
Preheat oven to 350°.
Grease a loaf pan.
Sift dry ingredients together.
Beat eggs, oil, sugar and vanilla until light and thick.
Fold grated zucchini into oil mixture.
Stir dry ingredients into zucchini mixture until just blended.
Fold in the walnuts.
Pour batter into prepared loaf pan.
Bake on the middle rack of the oven for 60 to 70 minutes or until a cake tester inserted in the center comes out clean.
Cool slightly, remove from pan and cool completely on a rack.
Notes
* Zucchini can be grated in a food processor using the grating (shredding) attachment.
* Nuts can be chopped in a food processor using a the blade attachment.
* Can be mixed by hand or using an electric (handheld or stand) mixer.
* If you use
Cup4Cup
gluten-free flour this bread is both gluten-free and wheat-free.
* Recipe makes one generous loaf. Double the recipe and you'll get three good sized loaves.
* Bread freezes well.