This month's Gourmet Dinner Club (GDC) theme? Breakfast for dinner. I love breakfast any time of the day so I was very excited by the theme.  However, I found my assignment of a salad a bit daunting since I don't typically eat salad (unless it's fruit salad) for breakfast. What to do? Turn to Google of course. I found many recipes pairing spinach with fruit since they work well together. Then I had an inspiration – how about a spinach and granola salad with a yogurt-honey dressing? Granola provides a great texture (crunch) with the spinach and the dressing brings it all together.
This granola is a bit healthier than most as it contains a small amount of olive oil and uses an egg white to make it crispy.  This recipe is very adaptable – add or remove ingredients according to your tastes. I liked the chopped whole almonds but you could also use sliced almonds. And if you're going to add cherries, I recommend taking the time to cut them in half or quarters (depending on the size). Most importantly, don't leave out the coconut as it works very well with the rest of the flavors.
While I served this granola as part of as salad you can do anything with it including eating it on its own which I had to stop myself from doing many times!
Read more about how Granola is Sowing Its Wild Oats in a recent New York Times article.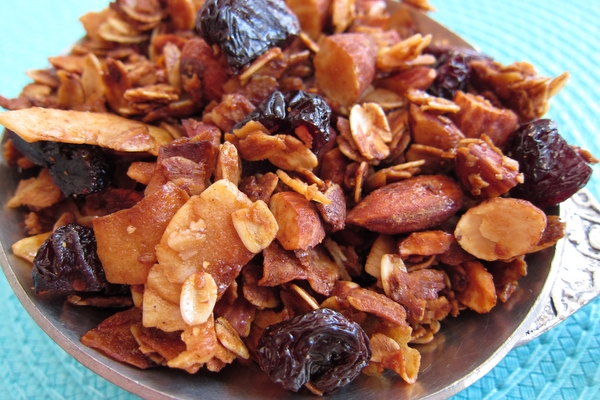 Ingredients
3 cups old-fashioned oats
1-1/2 cups chopped almonds
1-1/2 cups unsweetened coconut flakes or shavings
2 tablespoons (packed) light brown sugar
1 teaspoon kosher salt
½ teaspoons ground cinnamon
1 large egg white, beaten
½ cup agave syrup
¼ cup olive oil
1-1/2 cups dried cherries or cranberries
Instructions
Preheat oven to 300°F.
Combine old-fashioned oats, chopped nuts, coconut flakes or shavings, light brown sugar, kosher salt and cinnamon in a large bowl; toss to combine.
Add egg white, agave syrup and olive oil; toss to combine.
Spread out on a single layer on a rimmed baking sheet lined with parchment paper. You may need two baking sheets.
Bake granola, stirring every 10 minutes, until golden brown and dry, 40-45 minutes. Let cool on baking sheet (it will crisp as it cools).
Transfer to an airtight storage container or bag; mix in dried cherries or cranberries.
Notes
* Nuts: substitute chopped pistachios, pecans or walnuts for chopped almonds or use sliced almonds
* Syrup: substitute maple syrup or honey for agave syrup
* Dried Fruit: If the cherries (or other fruit) are large, cut them in half; by adding them after cooking you avoid burning them
* Other additions: sesame seeds (before baking) or mini-chocolate chips (after baking)
* Breakfast Salad: Prepare Yogurt-Honey Dressing: Whisk 6 ounces plain fat-free Greek yogurt, 1-1/2 tablespoons honey and 2 tablespoons fresh lemon juice in a small bowl. Toss 5 ounces of fresh spinach and ¾ cup of granola with dressing (may not need all of it) for a breakfast salad
Source:  Variation on recipe from Bon Appétit, February, 2013