This is one of the first new recipes I made back in 1995 shortly after Ed and I were married. We received France: A Culinary Journey as a wedding present. It's a gorgeous over-sized "coffee table" style cookbook with amazing photos and recipes that make you want to cook and eat everything in it. Each chapter is a different region so you really do feel like you're on a trip as you're perusing it.
This recipe from Provence has wonderful flavors and a hearty feel to it despite being all vegetables. It's my "go to" dish when I want to both satisfy and impress vegetarians and meat eaters alike. I serve it over short pasta (whole wheat penne) but you could serve it over any type of pasta or polenta or on its own as side dish (it goes nicely with lamb or beef). Be sure to serve it with a nice French wine – I'm particularly fond of Rosés from Provence.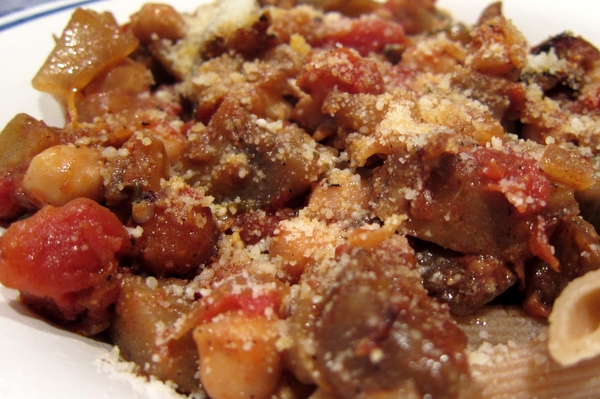 | | | |
| --- | --- | --- |
| Gratin of Eggplant, Tomatoes and Chickpeas | | Print |
Ingredients
1 15-ounce can chickpeas
1 large eggplant, remove skin and cut into 1-inch cubes
½ cup olive oil
1 medium onion, chopped
2-14.5 ounce cans of diced tomatoes
½ teaspoon ground allspice
½ teaspoon red chili powder
½ teaspoon cumin
12 to 15 basil leaves, cut into strips (chiffonade-style)
½ cup freshly grated Parmesan cheese
Instructions
Heat half the oil in a large skillet and sauté the eggplant over moderately high heat until lightly browned, adding more oil if necessary. Remove the eggplant and set aside in a bowl.
Preheat oven to 375°F.
Add half the remaining oil and sauté the onion until translucent.
Add the tomatoes and cook until the liquid has evaporated.
Combine the eggplant, onion and tomato mixture, allspice, red chili pepper, basil and chickpeas in the bowl. Taste for seasoning.
Spoon into a 8-inch square oiled baking dish.
Sprinkle with the Parmesan cheese and a bit of olive oil.
Bake in the oven for 40 minutes. Serve hot or at room temperature.
Notes
* Serve with pasta for a main course or its own as a side dish.
* Make ahead two days – bring to room temperature before baking.
* Freezes well – cook straight from the freezer for 60-70 minutes.
Source:  Adapted from France: A Culinary Journey (1992)