While I like feta on a good Greek salad there are many other cheeses that I prefer if I had a choice as I'm partial to intense, flavorful cheeses. By adding a few simple ingredients to feta and whipping them together, it increases the complexity of the flavor (and moves it up my list). My Dad immediately honed in on the olive oil, so make sure to use your best for this spread – it's worth it. Want to make it a bit more spicy?  Simply increase the amount of freshly ground pepper.
Think of this dip as feta getting all dressed up for a special occasion. You don't need to wait for a special occasion as you can serve this at almost any time with pita chips and fresh vegetables. It also goes nicely with some hummus and Greek olives. My stepmother, Peggy T, added it to warmed potatoes for a new twist on a warm potato salad and proclaimed it "delicious."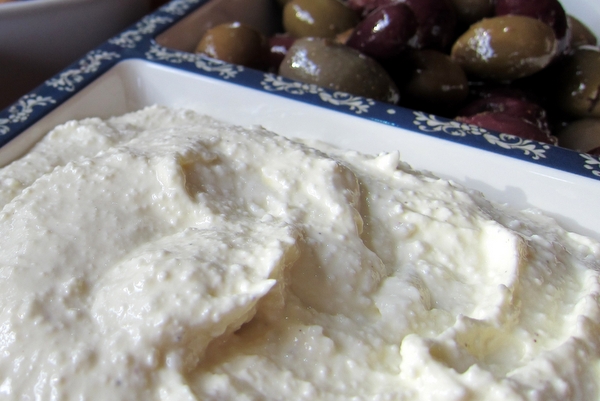 Serves:
Makes about 2 cups
Ingredients
1 pound Greek Feta (crumbles or block)
½ cup plain Greek yogurt
½ to ⅔ cup good quality extra virgin olive oil
1 teaspoon finely ground black pepper
2 to 3 tablespoons freshly squeezed lemon juice (~ 1 lemon)
Instructions
If using a block of feta, crumble it with your hands or a fork. Place feta in the bowl of a food processor and pulse together with the yogurt until smooth.
Add olive oil with the motor running until the cheese mixture is soft and spreadable.
Mix in pepper and lemon juice.
Refrigerate for at least an hour so the flavors can develop.
Before serving add more lemon juice to spike the flavor, if needed.
Serve with pita chips and fresh vegetables.
Notes
* Spread keeps for 2 weeks.
* Add more black pepper to make it more "spicy."