Spring starts this week and this is a great recipe to make to celebrate its beginning or for Easter which is always right around the corner.  This Green Pea Hummus recipe has a certain freshness to it that you don't find in traditional chickpea hummus even though the rest of the ingredients are almost identical. If you happen to have lemon olive oil in your pantry, this is a great opportunity to use it.
I knew that I had a hit with this hummus when my stepmother, Peggy T, asked for the recipe and she's not a big pea fan (even though my dad and I are).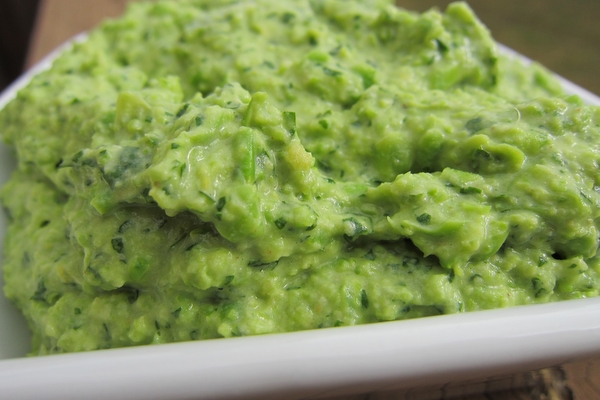 Ingredients
2 cups frozen green peas
1 medium clove of garlic
½ cup fresh cilantro
2 tablespoons tahini
Zest from one lemon
¼ teaspoon ground cumin
3 tablespoons lemon juice
1 tablespoon extra virgin lemon olive oil or regular extra virgin olive oil
⅛ teaspoon coarse salt
Crackers or toasted baguette slices for serving
Instructions
Bring a small pot of salted water to a boil. Add peas; cook until tender, about 4 minutes. Drain; run under cold water.
In food processor, pulse garlic until minced. Add peas, cilantro, tahini, lemon zest and cumin and pulse 30 to 40 seconds.
Add lemon juice and olive oil. Pulse until mixture is smooth (adding a bit more of each as needed to reach the right consistency - a little chunky).
Season with coarse salt.
Serve with crackers or toasted baguette slices.
Notes
To toast baguette slices: slice baguette at an angle and place pieces directly on an oven rack (it may be easier to remove the rack from the oven to do this). Bake at 425°F for 5-6 minutes until crispy. Let cool.
Source:  Adapted from Martha Stewart's Meatless (2013)