Years ago we used to eat Chinese takeout with good friends on Long Island. Stephanie M's favorite dish was boneless spare ribs because they were somewhat sweet and she thought they tasted like candy. When I make this recipe, I think of Stephanie M as the unique combination of marinade ingredients create a "candy-like" flavor.
What makes this steak marinade taste so special? Believe it or not, brewed coffee is the key ingredient! This is our favorite marinade for a flank steak and it is perfect for summer grilling. Other than the ingredients, the secret is marinating the steak for 24 hours – don't skimp on the marinating time. And, if I still haven't convinced you to try this recipe just know that it is another of our favorites adapted from Gordon Hamersley's Bistro Cooking at Home (see Oven-Baked Penne with Onions, Walnuts and Goat Cheese for another one Hamersley's tasty recipes).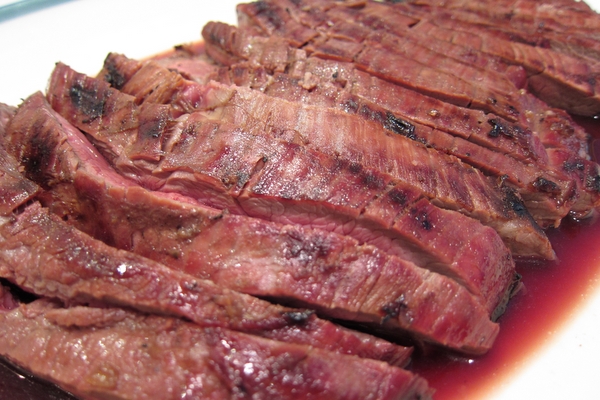 | | | |
| --- | --- | --- |
| Grilled Flank Steak with Coffee Marinade | | Print |
Ingredients
1 cup strong brewed black coffee or espresso
1-1/2 tablespoons Dijon mustard
2 garlic cloves, finely chopped
1 shallot, finely chopped
2 tablespoons balsamic vinegar
About 1 tablespoon mild olive oil (or canola oil), plus a little more for rubbing on the steak
2 tablespoons dark brown sugar
½ teaspoon salt
¾ teaspoon coarsely ground black pepper
1-1/2 to 2 pounds flank steak, trimmed of fat
Instructions
Combine the coffee, mustard, garlic, shallot, balsamic vinegar, 1 tablespoon olive oil, brown sugar, salt, and pepper in a large dish or zip-top bag.
Remove and reserve ¼ cup of the marinade (for use once the meat is cooked). This is optional (I sometimes forget this step).
Add the flank steak, refrigerate the meat, and marinate it for 24 hours, turning the meat every so often.
Heat the grill of your choice to medium-high.
Remove the meat from the marinade, reserving the liquid.
Pat the steak dry with paper towels, rub it all over with a little oil, and season with a little more salt.
Grill, basting with the left over coffee marinade frequently, until cooked rare to medium rare, 3 to 6 minutes per side, depending on thickness.
You don't want to overcook flank steak, so take it off the grill when it's slightly less done than you would like.
Let the meat rest at least 5 minutes before slicing thinly across the grain.
Combine any juices that have collected with the fresh reserved marinade (if you saved it), pouring over and around the beef and serve immediately.
Source:  Adapted from Gordon Hamersley's Bistro Cooking at Home (2003)