The obvious way to celebrate St. Patrick's Day is to go to a pub and drink a pint of Guinness.  Why not take the celebration  a step further by baking some bread made with Guinness? This hearty bread goes well with traditional Irish main courses such as shepherd's pie or beef stew. Or, it's a great way to have a Guinness at breakfast and not be thought of as…….well you know.
The beer serves as the yeast which makes it easy to prepare especially if you have a "fear" of cooking with yeast like I used to. The addition of cornmeal gives it a bit of a cornbread taste which works well with the beer.
Looking for a variation on this recipe? Try Whole Wheat-Rosemary Beer Bread.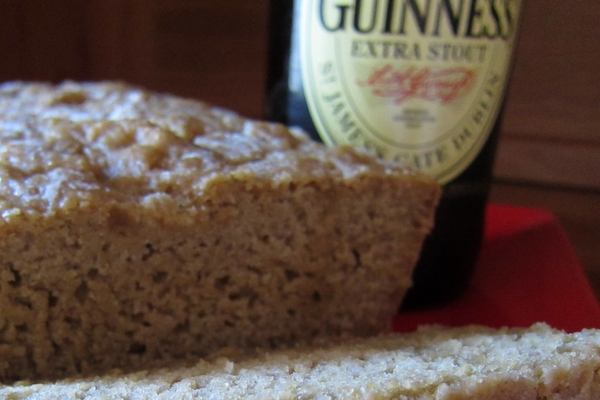 | | | |
| --- | --- | --- |
| Guinness Beer Bread | | Print |
Ingredients
6 tablespoons (3/4 stick) unsalted butter
1 cup yellow cornmeal
2 cups unbleached all-purpose flour
3 tablespoons sugar
1 tablespoon baking powder
1 teaspoon salt
12 ounces of Guinness beer
Instructions
Place an oven rack in the upper third of the oven and preheat the oven to 350ºF.
Place the butter in a 13 x 9 x 2-inch baking dish or pan and set it in the oven while the oven is preheating.
Stir together the cornmeal, flour, sugar, baking powder and salt in a medium bowl.
Stir in the beer until it is just incorporated (The dough will be sticky and heavy.) Pour 5 tablespoons melted butter out of the pan into a cup; tilt the pan to coat the bottom and sides with the remaining butter (1 tablespoon).
Spoon the bread dough into the pan and spread evenly; drizzle the 5 tablespoons melted butter over the top.
Bake for 25 to 30 minutes, or until the bumpy top is golden brown.
Halfway through baking tilt the pan to distribute the butter (in case it has pooled).
Remove the bread from the oven to a cooling rack; cut the bread into rectangles and serve warm.
Notes
* Bread freezes well. I recommend heating it up wrapped in aluminum foil.
* You can substitute unbleached all-purpose flour for yellow cornmeal, if you prefer (use 3 cups unbleached all-purpose flour instead of 1 cup yellow cornmeal and 2 cups unbleached all-purpose flour).
Source:  Variation of a recipe from Sara Moulton's Everyday Family Dinners (2010)