I like to think of this Halloween Bark as adult Halloween candy. Probably because I've brought it to family Halloween parties the last few years and more of it gets eaten by adults than kids (maybe that's because we keep it out of reach of the kids?). Plus at Halloween you'd never give kids candy that's not wrapped, right?
Use your imagination here – any of your favorite candy will work. If you're using large pieces or bars, cut them into smaller pieces. Freezing the candy for about 10 minutes ensures that it doesn't melt when it meets the melted chocolate. Speaking of chocolate, I use a mix of dark chocolate and semi-sweet chocolate but feel free to use whatever you prefer. Be creative – I'm sure whatever you come up with will be delicious and well received (should you decide to share).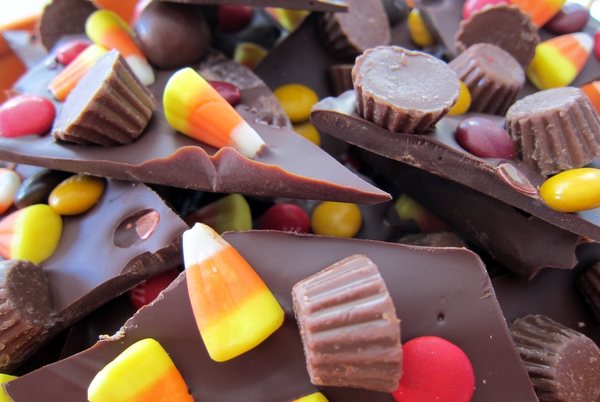 Serves:
Makes about 48 pieces.
Ingredients
10 ounces dark chocolate chips
12 ounces semi-sweet chocolate chips
Assorted candy such as:
6 ounces festive M&Ms
20 Reese's Mini Peanut Butter Cups
20 Whoopers Malted Milk Balls, cut in half
20 Candy Corn
20 pieces Butterfinger Bites, cut in half
Instructions
Place candy on a separate cookie sheet (or plate) and place in freezer for 10 minutes.
Line a cookie sheet with slightly high sides with wax paper. Recommend 15" x 10" or 17" by 11" cookie sheet.
Put chocolate chips in a microwave-safe bowl. Microwave on medium power for about 5-6 minutes until just melted, stirring occasionally.
Spread melted chocolate evenly on the cookie sheet.
Sprinkle candy over melted chocolate and gently push candy into the chocolate.
Chill in refrigerator for about an hour.
Break into pieces. Store layered between wax paper or parchment paper in an airtight container in the refrigerator.
Keeps for 2 to 3 weeks.
Notes
I use one bag of Ghirardelli 60% cacao bittersweet chocolate chips (10 ounces/bag) and one bag of Ghirardelli semi-sweet chocolate chips (12 ounces/bag).