Curried chicken salad is a mixture of two worlds – Britain and India. And, it's not surprising we have British royalty to thank for it's creation. The first mention of it was for King George V's silver jubilee in 1935 (known as Jubilee Chicken) with the more famous version being made for Queen Elizabeth II's coronation in 1953 (known as Coronation Chicken). Both contain cold chicken, curry seasonings and either mayonnaise or cream. Nuts, vegetables and fruits were later additions.
While I enjoy chicken salad, I prefer not to eat the amount of mayonnaise needed to make it a good chicken salad. I decided to try making it a bit more healthy and substituted Greek yogurt for mayonnaise. The good news is that you can't tell it's yogurt. I inadvertently ran a "test" as I forgot to tell Ed what the ingredients were until halfway through lunch. He said that the salad was really good, so I asked if he could tell if I had used yogurt and he said he wouldn't have known – he assumed it was mayonnaise. Between the curry powder and honey it hides the tartness in the yogurt.
I like a variety of textures in my chicken salad so to this I've added celery, grapes and roasted walnuts – all of which work well with curry. Curry powder is made up of a variety of spices and can vary from one recipe to the next. That also means the heat can vary, too. If you're sensitive to heat, wait to add the cayenne pepper at the end – after you've tasted the dressing.
This is an easy dish to make for a few people or for a crowd. Constance Spry served her version to 300 guests attending Queen Elizabeth II's coronation. Perhaps it would make a nice addition to a Mother's Day brunch or lunch?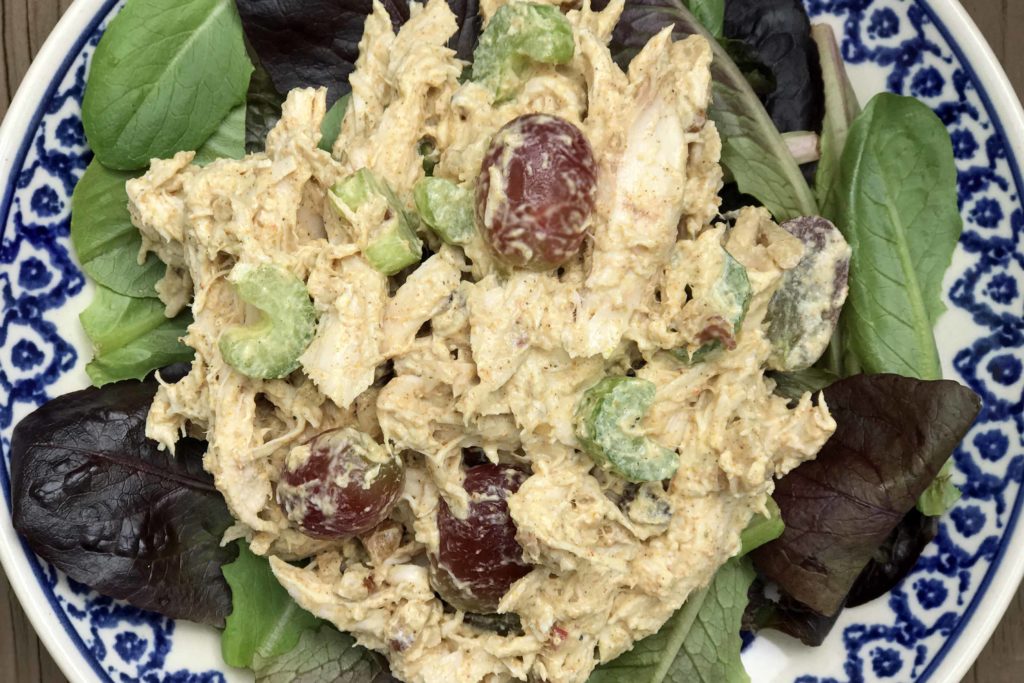 | | | |
| --- | --- | --- |
| Healthy Curried Chicken Salad | | Print |
Ingredients
3 cups shredded chicken (~ 1 rotisserie chicken – white and dark meat)
⅓ cup chopped walnuts, roasted
1-1/2 cup red grapes, sliced in half lengthwise
2 medium stalks of celery, chopped
5 ounces plain fat-free yogurt
1 tablespoon curry powder
dash of cayenne pepper
pinch of sea salt
1 tablespoon honey
1 tablespoon freshly squeezed lemon juice
For serving: 4 ounces of lettuce
Instructions
Preheat oven or toaster oven to 350°F. Place walnuts on a baking pan and roast for about 5 minutes until slightly brown. Watch them carefully so they do not burn. Let cool.
Place chicken, walnuts, grapes and celery in a large bowl.
In a small bowl mix yogurt, curry powder, cayenne pepper, sea salt, honey and lemon juice until combined well.
Add yogurt mixture to chicken mixture. Mix well.
Refrigerate for an hour for flavors to meld.
Serve on a bed of lettuce.
Notes
* Recipe can be doubled, tripled, etc. to serve a larger crowd.
* It can also be served as a sandwich instead of on a bed of lettuce.