One of the reasons I love this time of year is the fresh tomatoes. There's nothing like a locally grown tomato – they put the ones we get the rest of the year to shame. This year I have been particularly smitten with heirloom cherry tomatoes. Not only do they have great flavor but they come in a variety of colors – red, yellow, green and purple. Heirloom tomatoes do not have the genetic mutation that gives tomatoes an appealing uniform red color while sacrificing the fruit's sweet taste.
I wanted to show off these colorful tomatoes and thought making a fresh salsa was just the right way to do so. Cutting up the tomatoes – I prefer to cut them  individually – is the most time consuming part of this recipe. Once done add a few more simple ingredients and you have a yummy salsa. I recommend pairing with a hearty tortilla chip.
The August issue of Bon Appétit arrived in the mail today with an heirloom cherry tomato salad on the cover so I must be onto something!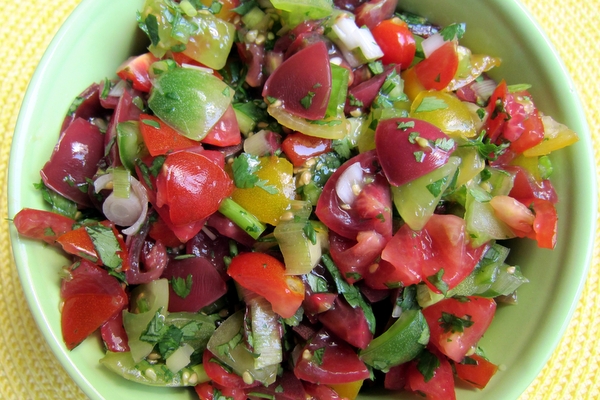 | | | |
| --- | --- | --- |
| Heirloom Tomato Salsa | | Print |
Serves:
Makes about 3 cups
Ingredients
1-1/2 pounds Heirloom cherry tomatoes, assorted colors
4 scallions, chopped
½ cup cilantro, chopped
½ jalapeño pepper, finely chopped (add more if you like it spicy)
1 medium clove of garlic, finely chopped
juice of one lime
Serve with: tortilla chips
Instructions
Cut each cherry tomato into small pieces. Place chopped tomatoes in a colander so that most of the juices and seeds drain.
Add tomatoes to a bowl and add scallions, cilantro, jalapeño pepper, garlic and lime juice. Mix well and season with coarse sea salt.
Prepare a few hours before serving so the flavors can develop. Store in the refrigerator. Bring to room temperature before serving.
Serve with tortilla chips.