Olives from the olive bar at your favorite grocery store or gourmet shop are pretty good, right? I've always thought so until I was inspired one day to dress up some olives to accompany my Prosciutto-Arugula-Provolone Packages that I was bringing to dinner at a friend's house.
Start with fresh rosemary and thyme and add fennel seeds, bay leaves, garlic, lemon zest, olive oil and red wine vinegar. When it's time to eat the olives you'll want to remove (or avoid) the bay leaves and probably the garlic unless you're partial to almost raw garlic. These fancy olives are simple to make but do allow for some extra time for the flavors to marinate as that makes them even better. They keep for about two weeks in the refrigerator but they're not likely to last that long.
Ed is more of an olive connoisseur than me as he grew up preparing fresh olives. I'm pleased to report that he couldn't get enough of these.  Personally I liked the addition of the fennel seeds and that they're naturally gluten-free.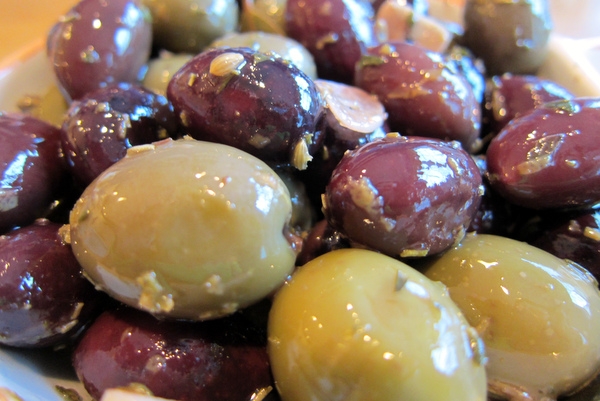 | | | |
| --- | --- | --- |
| Herb Marinated Olives | | Print |
Ingredients
¼ cup extra virgin olive oil
2 tablespoons red wine vinegar
5 bay leaves
2 large garlic cloves, peeled, green shoots removed, thinly sliced
Zest of 1 lemon
1 tablespoon fresh thyme leaves, coarsely chopped
1 teaspoon chopped fresh rosemary
½ teaspoon fennel seeds
2 cups (~ ¾ pound) imported olives (black, green or a mix) with pits
Instructions
In a small saucepan over low heat combine olive oil, vinegar, bay leaves and garlic. Heat for about 10 minutes.
Remove from the heat and stir in lemon zest, thyme, rosemary and fennel seeds.
Place olives in a wide mouthed jar (such as a mason jar) and pour in olive oil mixture. Shake jar to coat the olives.
Refrigerate for two hours or for up to two weeks. Shake the jar a few times a day to redistribute the seasonings.
Notes
* Olives with pits work best for this recipe.
* Olives will keep in the refrigerator for about 2 weeks.
* Recipe can easily be doubled or tripled.
Adapted from:  Martha Rose Shulman's recipe on New York Times Cooking