Adding coffee to a cocktail seems pretty mainstream to me (think "Kahlúa and Cream") but for some reason adding a tea does not. The first time I recall having tea in a cocktail was at my sister Sarah S's bachelorette party in Boston – it was a fancy hotel cocktail served straight up in a martini glass. Sadly I recall none of the other ingredients as it was about 11 years ago (and also not the first stop of the night).
Somehow I stored that in the back of my mind and it resurfaced as I was thinking about creating a new summer cocktail. Here tea plays the lead. It's a mixture of green tea and mint tea that's flavored with some simple syrup to sweeten it along with freshly squeezed lime juice. Concerned about caffeine? Caffeinated or decaffeinated tea works fine for this recipe. You can make the tea ahead of time and chill it up to two days. When ready to serve add the rum to individual servings. The tea is also quite good on its own.
This cocktail is ideal for sipping on your back deck, porch, terrace (insert the correct word) on a warm summer afternoon or evening as it is very refreshing. Be warned that it goes down very, very easily. Don't forget to grate some fresh nutmeg on top as garnish. I recommend the same microplane you would use for zesting citrus fruit for grating a whole piece of nutmeg (you'll use very little of the whole piece of nutmeg). Already grated nutmeg just isn't the same.
This is the kind of cocktail that is best served in a Ball jar rather than a Martini glass.
Gluten-Free Note:  Most rums are naturally gluten-free as they are made from sugarcane.  I used Bacardi Superior which is gluten-free. Stay away from flavored rums which may contain gluten. Other gluten-free options are Myers's and Mt. Gay.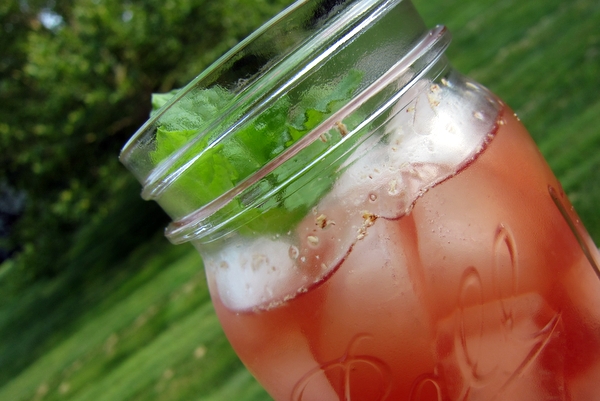 Ingredients
2 bags green tea (regular or decaffeinated)
2 bags herbal mint tea
6 ounces white or light rum
2 ounces fresh lime juice (~ 2 limes)
3 ounces simple syrup (see Notes)
freshly ground nutmeg
4 mint sprigs for garnish
Instructions
Steep all 4 tea bags in 4 cups of boiling water for 15 minutes (or longer) in a heat-proof glass or ceramic pitcher.
Place tea in refrigerator until cold.
Add lime juice and simple syrup to tea and stir.
When ready to serve fill high ball glasses with ice. Add rum and top off with iced tea mixture.
Garnish with freshly grated nutmeg and a mint sprig.
Notes
* Iced tea can be made up to two days in advance.
* Iced tea is great on its own without rum.
* Recipe easily doubles or triples.
* SIMPLE SYRUP
1 cup (8 ounces) water
1 cup granulated sugar
Bring the water to a simmer in a saucepan set over medium-high heat. Add the sugar and stir until it completely dissolves. Remove the pan from the heat. Set aside to cool to room temperature. Pour the syrup into a clean 1-pint bottle, cap it and refrigerate it until needed. Makes 1½ cups and keeps two months or longer in the refrigerator.