When Ed and I were first dating he talked about Irish Soda Bread. I was the one with the Irish heritage but I'd never had it before. I decided to surprise him with it on St. Patrick's Day 25 years ago. He said he wasn't sure it was Irish Soda Bread because it wasn't dry and crumbly but moist and delicious – unlike any he had ever had. With an endorsement like that I've never bothered to try any other recipe.
I have The Silver Palate Cookbook to thank for the original version of this recipe – made with all-purpose flour. I was a bit concerned that this recipe wouldn't work well with gluten-free flour given the high quantity of flour required. Fortunately I was proven wrong! Buttermilk is the key to keeping it moist.
I used a combination of gluten-free Cup4Cup Multipurpose Flour (my standby) along with King Arthur Flour's Ancient Grains Flour Blend. The Ancient Grains Flour Blend is made with 30% each amaranth, millet and sorghum flours and 10% quinoa flour making it both entirely whole grain and gluten-free. It gives the bread a bit more complexity in terms of taste and some added protein, fiber vitamins and minerals. I followed King Arthur Flour's recommendation of substituting it for 1/4 (or a 3:1 ratio) of the multipurpose flour called for in the recipe. Note that this recipe could be made using all gluten-free multipurpose flour or all regular-multipurpose flour. It will not work with 100% Ancient Grains Flour Blend.
I served this as part of a lunch I was hosting for the Council for Women of F&M and everyone was very happy with it – and many even went back for seconds. I polled the group to see if they would have known that it was gluten-free and everyone agreed that they would not have known.  
For me I was thrilled with it as soon as it came out of the oven (it's at it's very best when it's warm). It had been years since I'd made it and the smell alone brought me back to the original recipe I made for Ed over 25 years ago.
Bonus:  The same day I published this Bon Appétit shared a post on the legacy of The Silver Palate Cookbook – How The Silver Palate Cookbook Changed Our Cooking.  A good read for any lovers of the book that revolutionized how we cook and entertain at home.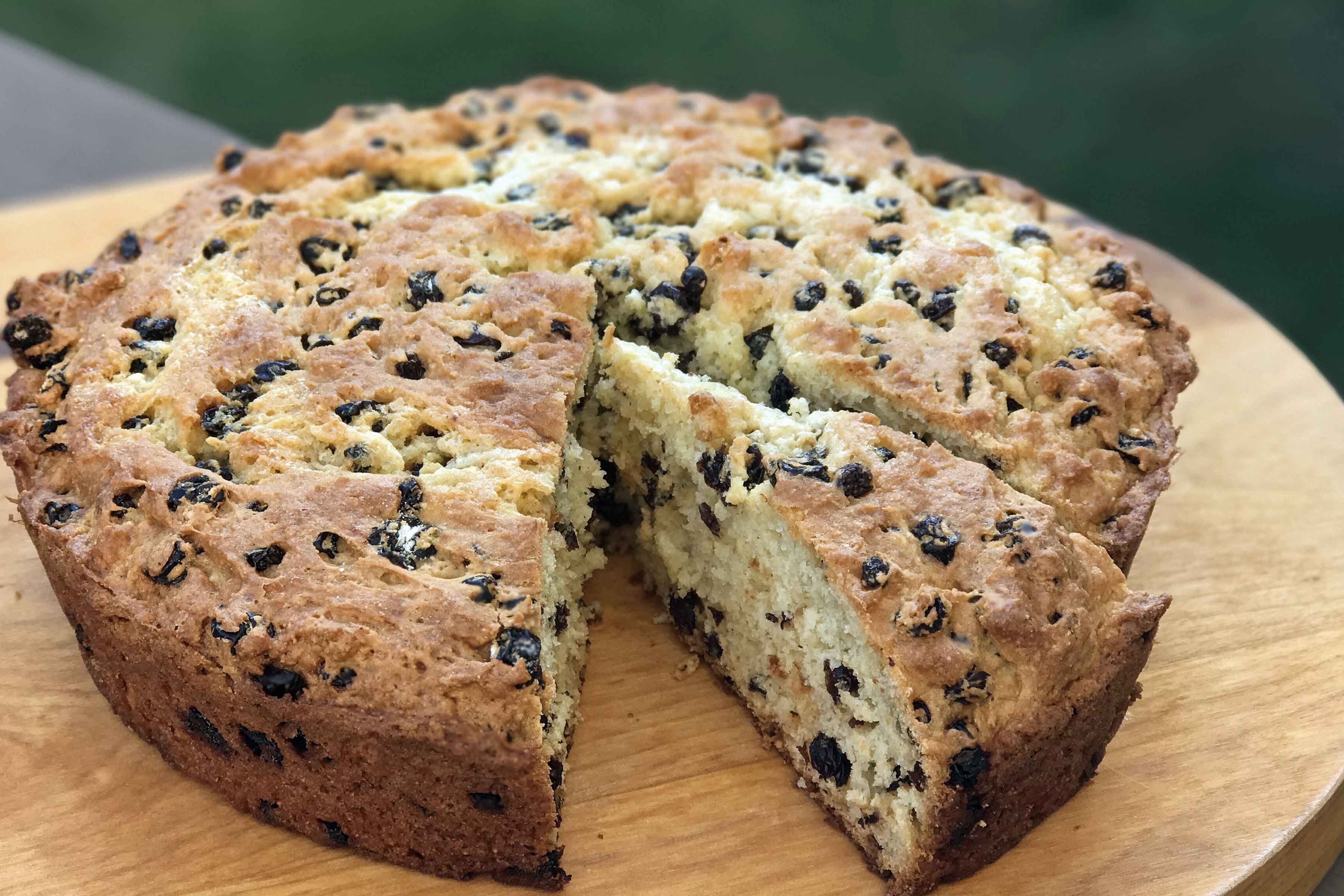 | | | |
| --- | --- | --- |
| Irish Soda Bread (Gluten-Free) | | Print |
Ingredients
6 tablespoons unsalted butter, divided [2 melted and cooled for batter, 2 to grease pan and 2 cut into small cubes to dot the top of the batter]
2-1/4 cups multipurpose gluten-free flour (see note)
¾ cup ancient grains flour blend (see note)
1-1/2 teaspoons salt
1 tablespoon baking powder
1 teaspoon baking soda
¾ cup sugar
1-1/2 cup dried currants (or raisins), about 10 ounces
1-3/4 cup buttermilk
2 eggs, well beaten
Instructions
Melt 2 tablespoons of butter in a microwave-safe bowl on medium heat for 1 to 1-1/2 minutes. Let cool to room temperature.
Smear 2 tablespoons of butter evenly over the bottom and sides of a 10-inch cast-iron skillet. Line the bottom of the pan with a circle of waxed paper. Preheat oven to 350°F.
Combine dry ingredients together in a large bowl. Add currants and toss well to coat (note: this prevents them from all sinking to the bottom of the mix).
In another bowl, whisk together buttermilk, eggs, and melted butter.
Add this to dry ingredients and mix until just blended. Do not overmix.
Pour batter into prepared pan, and smooth gently smooth top with the spatula. Dot top with the remaining 2 tablespoons of butter.
Place pan in oven and bake until bread is puffed and golden brown, about 1 hour.
Cool in pan for 10 minutes and serve warm, or transfer bread to a wire rack to continue cooling.
Cut loaf into wedges to serve.
Notes
* You can use a 10-inch baking pan if you don't have a skillet that can go in the oven.
* Gluten-Free flours: You can use all
Cup4Cup Multipurpose Flour
or a combination of Cup4Cup Multipurpose gluten-free flour (2-1/4 cups) and
King Arthur Flour's Ancient Grains Flour Blend
(3/4 cup).
* With Gluten flour: You can also use all multipurpose flour (with gluten) or a combination of multipurpose flour (2-1/4 cups) and an ancient grains flour blend (3/4 cup).
* Recipe can be doubled – it will make two 10-inch breads or one 10-inch bread and two 8-inch breads.
* Bread freezes well. Defrost and warm before serving.
Source:  Adapted from Julee Rosso and Sheila Lukins' The Silver Palate Cookbook (1982)