I can't say for sure but it's very likely that my last Whiskey Sour was November 17, 1989 – the day I turned 21. My sorority semi-formal happened to be the same night and I had bronchitis so it seemed like a good idea to treat it with a "fancy" Whiskey drink. I'm sure it did the trick.
Fast forward many, many years to now when I'm looking for something festive for St. Patrick's Day which isn't an Irish Coffee or a pint of Guinness. I came across a recipe for an Irish Sour – think Whisky Sour but made with Irish Whiskey – and decided to give it a try and I am glad I did. I would guess that the last one I had was made with a bar mix. This one is made with fresh lemon juice (sour) and Tillen Farms Merry Maraschino Cherries which are entirely natural. The end result is a pleasantly tasty sour drink.
If you haven't had a Whiskey Sour in a few years, I recommend giving this one a try to celebrate St. Patrick's Day. I don't have any "Sour glasses," but did break out some Irish crystal for the occasion.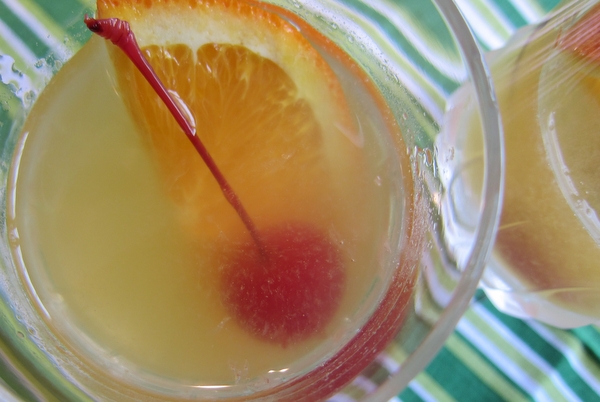 Ingredients
2 ounces Irish Whiskey (such as Jameson)
1 ounce fresh lemon juice (~ 1 lemon)
½ ounce simple syrup (see Notes)
½ orange wheel, for garnish
1 or 2 maraschino cherries (natural, if possible), for garnish
Instructions
Chill glass in the freezer for a few minutes.
Freshly squeeze lemon juice.
Fill shaker two-thirds with ice.
Pour Whiskey, lemon juice and simple syrup into shaker. Shake well.
Strain into a chilled glass (add ice if desired). Add garnishes.
Notes
*
Tillen Farms Merry Maraschino Cherries
can be found in the natural food section at Wegmans.
* This drink is traditionally served in a
Sour glass
which resembles a short Champagne glass.
* SIMPLE SYRUP
1 cup (8 ounces) water
1 cup granulated sugar
Bring the water to a simmer in a saucepan set over medium-high heat. Add the sugar and stir until it completely dissolves. Remove the pan from the heat. Set aside to cool to room temperature. Pour the syrup into a clean 1-pint bottle, cap it and refrigerate it until needed. Makes 1-1/2 cups and keeps two months or longer in the refrigerator.
Source:  Adapted from Williams-Sonoma The Bar Guide (1999)