The Kentucky Derby (always the first Saturday in May) is my favorite sporting event of the year. Two reasons – I love horses and it really is "the most exciting two minutes in sports." Those two minutes give me an excuse to don a hat, wear my Great Aunt Jean's charm bracelet (she owned her own race horse) and have friends over for mint juleps and hors d'oeuvres and sweets.
Beyond mint juleps, another quintessential Kentucky Derby food is Derby Pie. Here I've taken some of the main ingredients (milk chocolate and pecans) and turned them into yummy caramels. They are so good you'll want to make them at any time during the year.
Derby tip – not a fan of mint juleps because they are too strong? Add some club soda/seltzer for a "mint julep spritzer." I think you'll like it.
For a "non-nut" variation on this recipe, try Dark Chocolate-Sea Salt Caramels.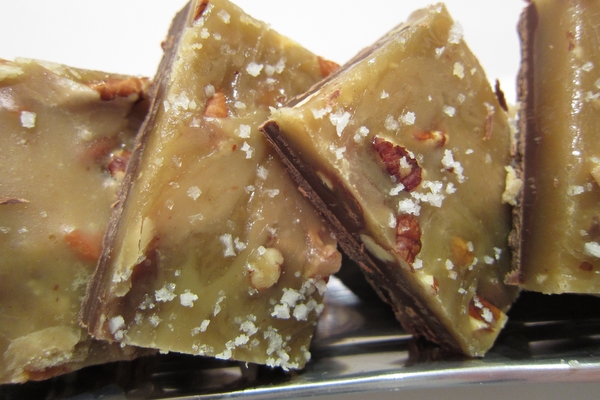 | | | |
| --- | --- | --- |
| Kentucky Derby Caramels | | Print |
Ingredients
23 ounces of milk chocolate (chopped or chips)
½ cup heavy cream
½ cup (1 stick) unsalted butter, at room temperature
1½ cups light brown sugar
1 tablespoon water
1-1/2 cups chopped pecans
Course or flaky sea salt
Special equipment: candy thermometer
Instructions
Line a cookie sheet with slightly high sides with wax paper. Recommend 15" x 10" or 17" by 11" cookie sheet.
Put chocolate chips in a microwave-safe bowl. Microwave on medium power for about 5-6 minutes until just melted, stirring occasionally. Spread melted chocolate evenly on the cookie sheet. Refrigerate for 20-30 minutes until the chocolate is set.
In a medium heavy-bottomed saucepan, combine the heavy cream, butter, brown sugar, and water. Stir over medium heat until the mixture is smooth. Bring to a boil and cook, without stirring, until a candy thermometer registers 240°F, about 5 to 7 minutes. Stir in chopped pecans. Carefully pour caramel over the cooled chocolate layer. Sprinkle with coarse sea salt or sea salt flakes.
Cool at room temperature for about 30 minutes. Refrigerate for about an hour.
Cut into 1 inch squares using a serrated knife. Be careful not to separate chocolate from caramel. If it's too hard to cut, let it get closer to room temperature.
Refrigerate until ready to serve – let sit out at room temperature for about 30 minutes before eating. Caramels keep, refrigerated for a month.
Notes
* I use 2 bags of Ghirardelli milk chocolate chips (23 ounces/bag).
* Trader Joe's sells chopped pecan pieces (Unsalted Dry Roasted Pecan Pieces) that are the perfect size for this recipe – no need for any additional chopping.