It's berry season and for me that means any excuse to serve them. For a recent Gourmet Dinner Club (GDC) dinner I was charged with dessert and I wanted to find something to go with local fresh strawberries. Think of this cake as a substitute for the shortcakes in strawberry shortcake.
The wonderful thing about this versatile cake is that it can be a base for any summer berry dessert – blueberry, blackberry, raspberry, etc. Top a slice of the cake with berries and whipped cream or some sweetened mascarpone (which is what I used for my GDC dessert) and you're good to go. Or, serve it plain as you would a quick bread.
The olive oil makes it extra moist and the cornmeal gives it a bit of texture; a subtle crunch. The lemon makes it smell great and the lavender lends a nice floral addition, too (chop up both leaves and flowers). If you don't have fresh lavender you could substitute fresh rosemary or thyme which would add a slight savory flavor or leave it out all together. I used gluten-free flour but this cake can be easily made with all-purpose flour. Cornmeal does a nice job of masking gluten-free flour so that it's very difficult to tell the difference between using regular all-purpose flour or gluten-free flour in a recipe like this.
I also brought this cake on a recent visit to see my sister, Sarah S, and her family. When I told our niece Margaret (age 3) that I brought cake for breakfast she thought it was both "silly and wonderful" (cake for breakfast, Aunt Nicole?) at the same time. It made me quite happy to see Margaret, along with our nephews Owen (almost 10) and Carter (7), going back for seconds the next morning. So if you were worried if this is kid-friendly have no fear – the Smith family gave it a ringing endorsement (and not just because it was cake for breakfast).
Gluten-Free/Wheat-Free Note:  I made this gluten-free/wheat-free using Cup4Cup Multipurpose Flour and Bob's Red Mill Gluten Free Medium Cornmeal. While cornmeal is not made with gluten-containing ingredients it could be cross-contaminated.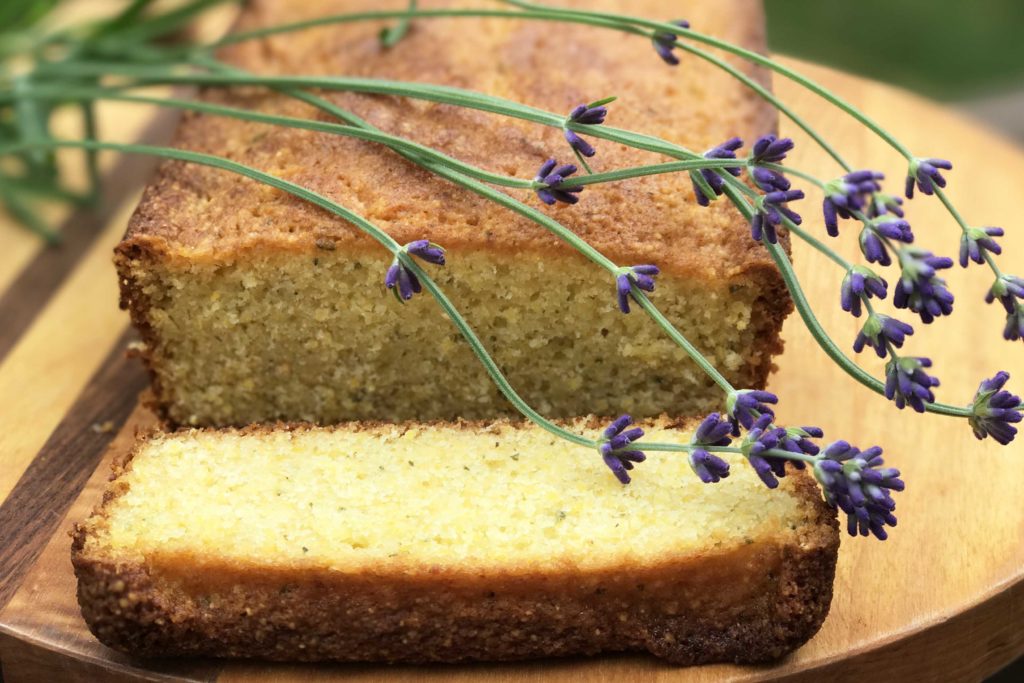 | | | |
| --- | --- | --- |
| Lavender and Lemon Olive Oil-Cornmeal Cake (Gluten-Free) | | Print |
Ingredients
¾ cup all-purpose flour (regular or gluten-free – see Note)
¾ cup cornmeal
¼ fine sea salt
1 teaspoon baking powder
2 tablespoons freshly chopped lavender (leaves and flowers)
Zest from one lemon (~ 1 teaspoon)
2 large eggs
¾ cup sugar
½ cup flavorful extra virgin olive oil
½ cup buttermilk (see Note)
1 tablespoon mild honey
Instructions
Preheat oven to 350˚F. Spray a 9x5 loaf pan with olive oil or canola oil.
In a small bowl, combine flour, cornmeal, salt, baking powder, lavender and lemon zest. Mix using a fork to distribute lavender and lemon zest.
Combine oil, buttermilk, and honey in a 2-cup measuring cup. Stir with a fork to mix (don't worry if it separates).
Using a stand mixer or handheld mixer, cream sugar and eggs on medium high until pale yellow, about 1 minute.
On medium speed, add dry ingredients in three parts, alternating with wet ingredients. With every addition, make sure to incorporate without overbeating. Scrape down sides as necessary.
Using a rubber spatula, scrape batter into oiled baking dish.
Bake until slightly golden and a toothpick inserted in the middle comes out clean, 50 to 60 minutes.
Transfer pan to a wire rack. Let cool in pan for 10 minutes and remove from pan. Let cool to room temperature.
Bread keeps wrapped at room temperature for three days or in the freezer.
Notes
* If you want to make this truly gluten-free use gluten-free flour (such as
Cup4Cup Multipurpose Flour
) in place of the all-purpose flour and gluten-free cornmeal (such as
Bob's Red Mill Gluten Free Medium Cornmeal
).
* I recommend using
SACO Cultured Buttermilk Blend
in place of fresh buttermilk. You'll find it in the baking section of your grocery store. Follow directions on the container for use. It keeps for a few years refrigerated so you always have buttermilk on hand.
* Recipe could be doubled or tripled and will fit into the bowl of a stand mixer.
Source:  Variation on recipe from California Olive Ranch