I recently had a "Susanna Sparkler" at Susanna Foo Gourmet Kitchen in Radnor, PA, and loved it. I do enjoy a glass of something bubbly and this had just the right balance, plus appeared to be so simple. The menu described it as "sparkling wine and lavender infused honey." So, I set out to recreate it.
I had the perfect excuse as I was having my friends Wendy H (who was with me when we had the original), Lisa K and Cindy J over today for a relaxing ladies' afternoon.
After looking at a variety of types of honey, I was able to find lavender honey at Wegmans (in the regular honey section). But, I knew that unlike other mixed drinks, you don't want to stir the sparkling wine – you want to let the "bubbles" do the stirring. But, mixing honey into liquid could take a fair amount of stirring. I was able to find a recipe for honey simple syrup which solved my problem, as the honey would be in a more liquid form. And, would "mix" once the sparkling wine was added.
And, it worked out perfectly! The lavender honey simple syrup made the sparkling wine (in this instance Prosecco) more smooth. If you love "bubbly wines" I know you'll really enjoy this simple, but tasty, cocktail.
Plus, it gave me an excuse to use our Waterford Champagne flutes we got for our wedding many years ago!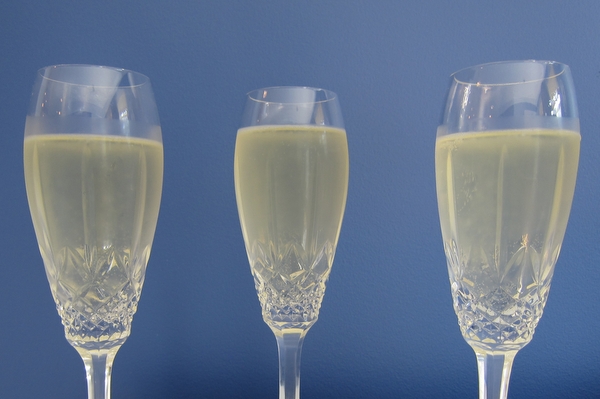 | | | |
| --- | --- | --- |
| Lavender Honey Sparklers | | Print |
Ingredients
½ cup (4 ounces) lavender honey
½ cup (4 ounces) water
1 bottle (750ml) of sparkling wine (such as Prosecco)
Instructions
To make the Honey Simple Syrup: Place the honey and water in a small sauce pan. Heat on medium, stirring occasionally until smooth. Bring it to a boil and let it boil for about a minute. Remove from heat and cool (it should be cold before using). Can be stored in the refrigerator for up to a month.
To make the Cocktail: Place one teaspoon of honey simple syrup in a Champagne flute. Add sparkling wine until glass is full. Bubbles from wine will "stir" the honey simple syrup with sparkling wine.
Notes
- Vary the amount of honey simple syrup you make based on what you need. Use equal parts of honey and water to make the syrup. - This amount makes more than what you need for one bottle of sparkling wine - is approximately enough for about three bottles.
Source:  Recipe adapted from Susanna Foo Gourmet Kitchen in Radnor, PA