This simple dip provides a great vehicle to showcase some of your highest quality ingredients. The best ricotta is made from sheep's milk (if you have a choice). And be sure to use your best quality olive oil – even better if you have lemon olive oil in your pantry. You just can't get enough lemon in this spread (it's even pictured in a lemon bowl!). It may seem like there's a lot of pepper but it gives the dip some spiciness. This goes well with both veggies and pita chips. Or try it on top of fish (as a friend suggested) or pasta.
Did you know that ricotta means "re-cooked?" It's not actually cheese, but the creamy curd by-product of cheese that has been cooked twice.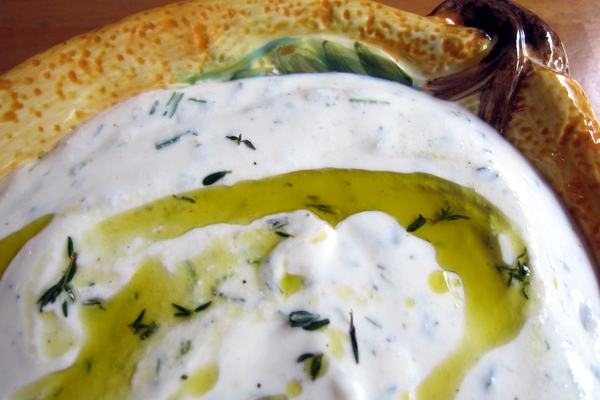 | | | |
| --- | --- | --- |
| Lemon-Thyme Ricotta Dip | | Print |
Ingredients
1-15-ounce container part-skim ricotta
2 tablespoons chopped fresh thyme, plus more for garnish
2 tablespoons minced fresh chives
2 teaspoons freshly grated lemon zest
¼ cup lemon juice
2 teaspoons extra-virgin olive oil or lemon extra-virgin olive oil
1 teaspoon freshly ground pepper
½ teaspoon salt
Serve with: fresh vegetables and pita chips
Instructions
Combine ricotta, 2 tablespoons thyme, chives, lemon zest, lemon juice, 2 teaspoons of olive oil, pepper and salt in a food processor, Vitamix or blender. Purée for a few seconds until smooth.
Transfer to a serving bowl and swirl the top with the back of a spoon. Drizzle with remaining 1 teaspoon of olive oil and sprinkle with thyme.
Cover and refrigerate for an hour for flavors to blend. Can be prepared a day in advance.