One of my favorite childhood memories of my Grandma Ruth was the goodies she would bring from Florida to Pennsylvania when she visited every summer. We'd happily eat cut mangoes over vanilla ice cream and homemade strawberry-rhubarb preserves for a a few days straight after she arrived. She used to bring key limes, too, and my stepmother, Peggy T, would make key lime pie. I remember a postcard with a key lime pie recipe on it – Grandma must have wanted to make sure Peggy T knew how to make a key lime pie.
When Grandma turned 90, it was my turn to make her favorite pie – in fact, I made three for her birthday celebration. If it was possible to improve upon the original recipe I did – at least in Grandma's eyes. My recipe called for a ginger snap crust, rather than a traditional graham cracker crust. Did I tell you that Grandma also loved ginger? The tartness of the lime is offset nicely by the spiciness/sweetness of the ginger snaps.
I prefer to use fresh limes (key limes if you can find them – traditional Persian limes work fine, too), but you can also use bottled key lime juice. And, while I think the lime-ginger snap combination is what makes this pie so tasty, you can substitute the same amount of graham crackers, if you're not a ginger snap fan. But, do me a favor, try it once with the ginger snaps and I think you'll be won over!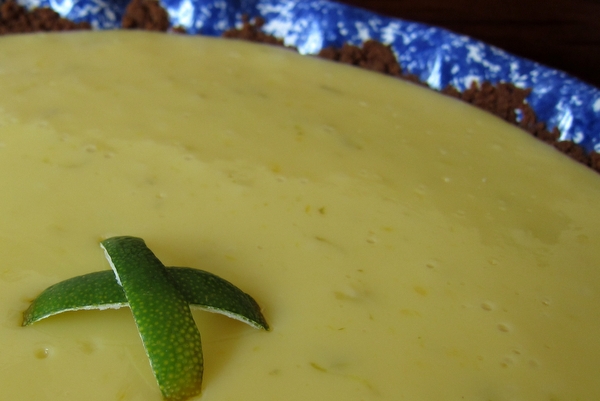 | | | |
| --- | --- | --- |
| Lime Pie with Gingersnap Crust | | Print |
Serves:
8-12 slices (depending on size)
Ingredients
Crust
4 tablespoons (1/2 stick) unsalted butter, melted
1½ cups ginger snap cookie crumbs (8 ounces)
Filling
1½ fourteen-ounce cans sweetened condensed milk
6 egg yolks
1 cup fresh lime juice (more if desired)
1 tablespoon grated lime zest
Instructions
Preheat oven to 325°F.
Make the crust:
Grind ginger snaps in a food processor or Vitamix.
In a small bowl, combine butter and cookie crumbs.
Press firmly into a 9-inch glass or ceramic pie dish.
Bake for 10 minutes.
Remove from oven and cool on rack for 10 minutes.
Make the filling:
In a medium-sized bowl, on the low speed of an electric mixer, beat milk, yolks, and lime juice.
Taste to see if the mixture is tart enough. Add more lime juice if desired.
Mix in zest.
Carefully pour pie filling into the prepared crust.
Bake for 25-30 minutes, or until the middle has set nicely.
Allow to cool for 20 minutes. Refrigerate at least 2 hours before cutting and serving.
Notes
Use key limes if you can find them - if not traditional Persian limes work. You can also substitute bottled key lime juice.
Source:  Variation of a recipe from The Magnolia Bakery Cookbook: Old-Fashioned Recipes from New York's Sweetest Bakery  (1999)