In many parts of the country it is crab season which is one my favorite times of the year. Ed is happy to settle in with a bushel of Maryland blue crabs, beer and good friends. I prefer someone else to do the work for me and am particularly fond of soft shell crabs which start to show up on restaurant menus. Sometimes I'm lucky and Ed shares some of his hard earned crab.
This recipe is someplace in between. It combines the tender lump crabmeat that is more easily found when in season with mint that is likely growing in many yards by now, plus some jalapeno chili peppers and lemon to round out the flavors. Simple enough to serve during the week, but special enough for a dinner party.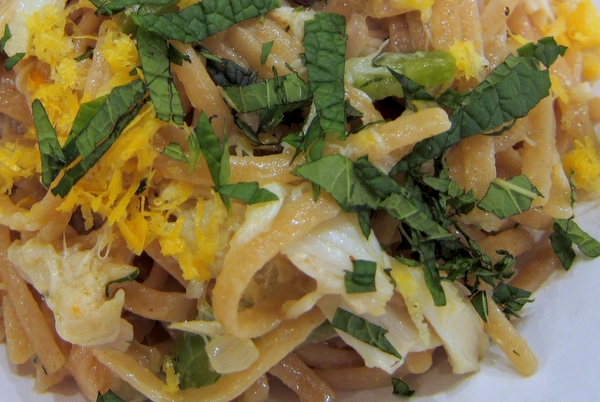 | | | |
| --- | --- | --- |
| Linguine with Crab, Lemon, Jalapenos and Mint | | Print |
Ingredients
6 ounces whole wheat linguine
2 tablespoons unsalted butter, divided
2 tablespoons olive oil, divided
¼ cup minced shallots
1 large clove of garlic, minced
1 jalapeno pepper, minced (add a second if you want it hotter)
1-1/2 tablespoons fresh lemon juice, divided (about 1 lemon)
2 teaspoons (packed) finely grated lemon zest, divided (about 1 lemon)
8 ounces cooked and shelled lump crabmeat (such as blue crab, Dungeness crab or king crab)
⅓ cup fresh mint leaves, gently torn, divided
Pecorino-Romano cheese for sprinkling
Instructions
Cook pasta in a large pot of boiling salted water, stirring occasionally, until al dente. Drain pasta and reserve 1 cup pasta cooking liquid.
Once you have added the pasta to the boiling water, melt 1 tablespoon butter with 1 tablespoon olive oil in a large skillet over medium heat. Add shallots and stir until just soft, 3–4 minutes. Add garlic and jalapeno peppers and cook, stirring often, until fragrant, about 1 minute.
Add ½ tablespoon lemon juice and 3 tablespoons pasta cooking liquid to shallot mixture; add a pinch of pepper. Stir until liquid is almost evaporated, about 1 minute.
Transfer cooked pasta to skillet and add ½ cup reserved pasta cooking liquid. Increase heat to medium-high. Cook, tossing pasta or stirring with tongs, until liquid is almost evaporated and pasta becomes glossy, about 2 minutes. Add the remaining 1 tablespoon butter, 1 tablespoon oil, 1 tablespoon lemon juice, 1 teaspoon lemon zest, crab and half of mint.
Stir pasta until butter melts and pasta is well coated, adding more pasta cooking liquid if dry.
Divide between bowls; top with remaining 1 teaspoon lemon zest and mint. Sprinkle with Pecorino-Romano cheese and more lemon juice if desired.
Source:  Variation on recipe from Bon Appétit, January, 2012