Ask my niece, Atlee T, what one of her favorite foods is and she responds "linguini with clams!" She has a pretty refined palate for a three year old. Her parents once ordered pizza for Atlee and linguini with clams for themselves and they ended up eating the pizza. Ed and I are partial to clams as well, so when I saw this recipe I thought we should test it out so we can make it for Atlee the next time we see her.
Typically linguini with clams is made with a white wine broth, but here you use beer – something that also works well with clams. This is just a good recipe for clams, so if you want to skip the pasta, you can enjoy these clams with a nice loaf of bread to soak up the flavorful broth.
Can't wait to make this for Atlee – I love that there's a foodie in the next generation of our family!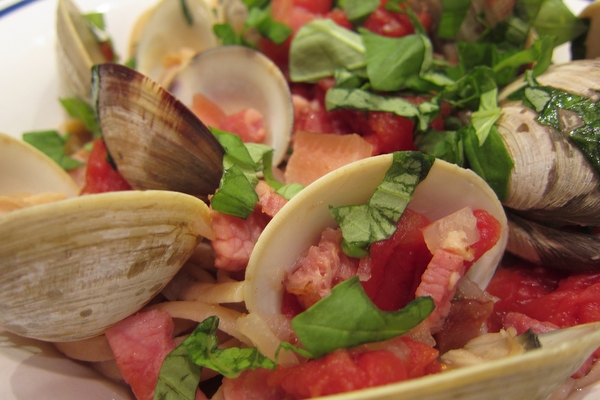 | | | |
| --- | --- | --- |
| Linguini with Clams and Beer | | Print |
Ingredients
1 pound dried linguini
2 bacon strips, finely chopped
1 medium shallot, finely chopped
4 garlic cloves, finely chopped
4 dozen littleneck clams, cleaned and scrubbed
⅔ cup canned diced tomatoes
1-3/4 cups lager-style beer (such as Grolsch or Heineken)
2 tablespoons unsalted butter
2 teaspoons sherry vinegar
2 tablespoons thinly sliced fresh basil, plus extra for garnish
Instructions
Bring a large pot of salted water to a boil.
In a large, deep skillet, braising pan or Dutch oven (something you can cover) set over medium heat, add the bacon. Cook until the bacon is crisp, about 5 minutes.
Add the shallot and cook until translucent, about 3 minutes.
Stir in the garlic and cook, stirring constantly, for 30 seconds.
Add the tomatoes with juices and use a wooden spoon to scrape up any bits that have stuck to the bottom of the pan.
Add the clams in an even layer.
Pour in the beer.
Cover the pan and steam until the clams begin to open, 8 to 10 minutes. You may need to increase the heat to medium-high for a few minutes, then bring it back to medium.
Once you have covered the clams, add the linguini to the pot of boiling water. Cook according to the instructions until al dente (about 8 minutes). Drain through a colander and set aside.
Reduce the heat to low and add the butter, sherry vinegar and basil. Stir to incorporate and once the butter is melted, add the cooked linguini and gently toss with the clams and sauce.
Sprinkle with more basil and serve.
Notes
* You can also serve these clams without the linguini - just be sure to have a good loaf of bread to soak up the broth.
* Don't want to buy a whole package of bacon? See if the deli at your grocery store has bacon that you can get sliced. If this is the case, ask them to slice it on the thicker side.
* A reminder to not eat any clams that haven't fully opened.
Variation on a recipe from Recipe adapted from Michael Santoro, The Mildred, Philadelphia, PA